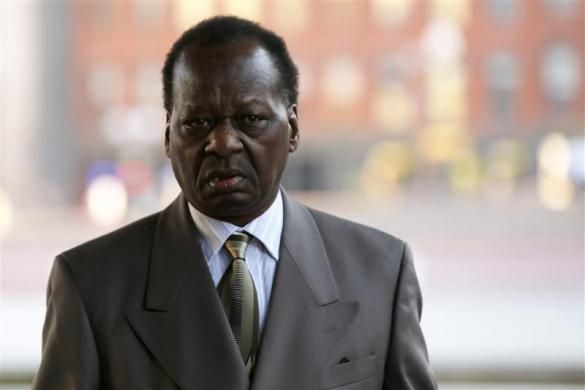 Onyango Obama, the uncle of U.S. President Barack Obama, arrives for a hearing at a federal immigration court in Boston, Massachusetts, December 3, 2013.A U.S. immigration judge ruled on Tuesday that President Barack Obama's Kenyan-born uncle can stay in the United States as a lawful resident, despite his decades dodging deportation and a 2011 drunk-driving arrest, reuters reports.
Judge Leonard Shapiro said his decision was based on a federal law granting green cards to foreigners who arrived to the United States before 1972, as long as they are found to be of good moral character.
"He appears to me to be a gentleman and I'm inclined to grant his application on that basis," Judge Shapiro told the court in Boston, after Onyango Obama, the 69-year-old half-brother of President Obama's deceased father, was questioned by attorneys.
Judge Shapiro said that, despite his years without a visa and his drunk-driving arrest, Obama had proven his good character through his history of paying taxes, volunteering in the community, and being "a good neighbor and a good friend."
Obama came to the United States as a teenager in 1963 to attend an elite school near Boston, but allowed his visa status to lapse in 1970. He was denied green card status in the 1980s and was asked to leave the country, in part because he lied to immigration officials on his application about being employed, according to the government.
He did not leave.
His deportation order came to light after he was arrested and charged with drunk driving in August 2011 in Framingham, Massachusetts, where he has worked for more than 11 years at a convenience store. After his arrest, he allegedly told police: "I think I will call the White House."
Asked in court if he had said those words, Obama replied: "I might have, but I'm not sure."
He was placed on probation for a year before the drunk driving charge was dismissed. Meanwhile, his lawyers filed an appeal of the deportation order, arguing that his former immigration attorney was ineffective and that he had already spent most of his life in the United States.
Onyango Obama is not believed to have a close relationship with President Obama, but critics have said he appeared to receive favorable treatment, including from immigration authorities, who allowed his release and gave him a work permit during his appeal.
Judge Shapiro is the same judge who in 2010 granted asylum to Obama's sister and President Obama's aunt, Zeituni Onyango. Onyango had argued she was unsafe in her native Kenya due to escalating political violence there.
Onyango Obama, dressed in a greyish-brown suit and tie, told the judge he feels more American than Kenyan.
"I don't have anymore friends there," he said. "I came when I was 17, now I am approaching 70. It would be mentally difficult (to move back). If you are young you can adjust, but at my age it would be difficult. I would have to start all over."
Obama also said he suffers from depression, anxiety, high blood pressure and hypertension, and claimed he would not be able to find the right medications in Kenya.
December 4 2013, 12:34