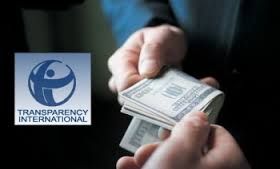 Kazakhstan has been lowered by seven lines in the corruption rating of Transparency International in 2013, occupying the 140th position, reads the organization's report posted on the website, azh.kz reports.
According to rating, published on Tuesday in 2013 report, Kazakhstan occupies the 140th place with 28 points, compared to the 133d place it occupied in 2012 with 26 points. Kazakhstan shares the 140th line with Gonudras, Laos and Uganda. However, Gonudras has better indicators.
On Tuesday the international non-governmental organization Transparency International which is based in Berlin, published an annual Corruption perception index (CPI). The study reflects the degree of occurrence of corruption in public sector on a scale from 0 (the highest level of corruption perception) to 100 (the lowest level of corruption perception). The index represents a combination of polls and is based on data relating to corruption sphere, collected by various organizations. This year 177 countries were covered by the rating.
Among CIS countries, Transparency International recognized Belarus (123rd place), Moldova (102nd place) and Armenia (94th place) as less corrupt countries than Russia (127th place). The high level of corruption had Ukraine (144th place), Kyrgyzstan (150th place), Tajikistan (154th place), Turkmenistan (154th place) and Uzbekistan (168th place).
The first place (91 points) was shared by Denmark and New Zealand, where the level of corruption perception two years in a row remains the lowest. The worst results are in Afghanistan, North Korea and Somalia - 8 points each.
December 3 2013, 12:24