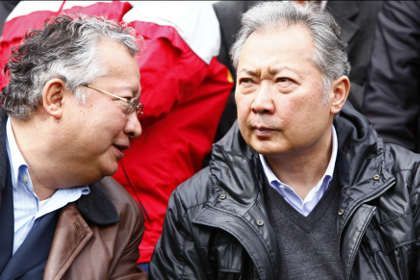 Djanybek (left) and Kurmanbek Bakievs. @RIA NovostiIn Kyrgyzstan Suzaksky District Court of Jalal-Abad region in absentia sentenced the brother of former President Kurmanbek Bakiyev - Janybekov Bakiyev to life imprisonment, azh.kz reports.
Brother of ex-president convicted of robbery in Jalal-Abad regional management of the National Bank during the revolution in March 2005. Bakiyev Djanybek stole 22 million soms (over 450 thousand dollars at the exchange rate in 2005). In addition, the Court put charges against Bakiyev in "creattion of illegal armed formations, organizing riots and unauthorized appropriation of status of an official in April 2010."
"As a result of judicial review Djanybek Bakiyev found guilty on all charges against him, and according to the ruling of the Suzaksky district court he was sentenced to imprisonment for 18 years, but with the previously imposed sentence of the Military Court Bakiyev finally convicted to life imprisonment", - reads the statemetn of the General Prosecutor's Office of Kyrgyzstan.
Djanybek Bakiyev fled Kyrgyzstan after the overthrow of his brother in April 7, 2010 and was put on international wanted list. Previously, he was convicted in absentia in the murder of the former head of the presidential administration Medet Sadyrkulov. According to some reports, Bakiev lives in Belarus together with his elder brother. Minsk refuses to extradite Bakiyev clan representatives, explaining that ex-president of the republic and his family are prosecuted for political reasons.
In April 2013, the former head of the interim government of Kyrgyzstan Roza Otunbayeva admitted that Kurmanbek Bakiyev left the country on her personal permission. In his home country the ex-president is sentenced in absentia to 24 years of imprisonment for crimes related to the abuse of authority.
Prosecutor General of Kyrgyzstan issued search for 20 relatives and close associates of Kurmanbek Bakiyev, including ex-president himself, his sons - Marat and Maxim, as well as the former head of the State National Security Service - Murat Sutalinov and former Prime Minister Mr. Usenov.
The nephew of the former head of state, Sanjar Bakiyev, in 2010 was sentenced to 10 years of imprisonment for participation and organization of mass riots in Jalal-Abad and he is serving his sentence.
Kurmanbek Bakiyev came to power in 2005 as a result of "Tulip Revolution" and the overthrow of President Askar Akayev. Bakiyev's regime was overthrown during the revolution in Kyrgyzstan on April 7, 2010. Opposition supporters organized a demonstration at the central square of Bishkek near the government building, which also is the presidential administration. The protesters demanded the resignation of Bakiyev, some of them tried to get inside the administrative building. The security forces opened fire. Total number of victims during that riot amounted to 82 people and more than 1.5 thousand people were injured. After thoes events, the power in the country was taken by the opposition and Bakiyev fled the country.
November 27 2013, 11:37