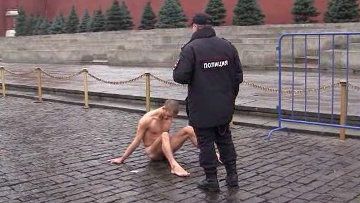 The case of a St. Petersburg artist who nailed his scrotum to the cobblestones of Red Square on Sunday was thrown out by a Moscow court after a judge failed to find a violation in the man's actions.
On Sunday, Petr Pavlensky took his clothes off near the Mausoleum on Moscow's Red Square and nailed his genitals to the cobblestones. Police first covered him with a sheet, and, after Pavlensky refused medical aid, he was sent to a police station where he spent the night.
Police cited him for disorderly conduct, an administrative charge that involves actions expressing disrespect for social order and sometimes include swearing in public and harassing strangers.
The court, however, found no descriptions of how Pavlensky's actions conformed to the charge and sent the case back to the police, RAPSI reported, citing Tverskoi Court spokeswoman Yekaterina Korotova.
Pavlensky had intended for the artistic stunt, involving "a naked man sitting on Red Square and looking at his balls nailed to the Kremlin cobblestones," to be a "metaphor for apathy, political indifference, and fatalism," according to a statement by the artist published by Grani.ru on Sunday. The event was also apparently meant as a commemoration of the Day of Interior Ministry Personnel.
The artist's actions may still be changed to a more relevant charge of indecent exposure in public or hooliganism.
Pavlensky's past stunts have included lying naked in barbed wire in front of a St. Petersburg building and sewing his mouth shut in support of Pussy Riot, the feminist punk band, two of whose members are serving jail time for performing a "punk prayer" in Christ the Savior Cathedral in Moscow.
November 22 2013, 16:44