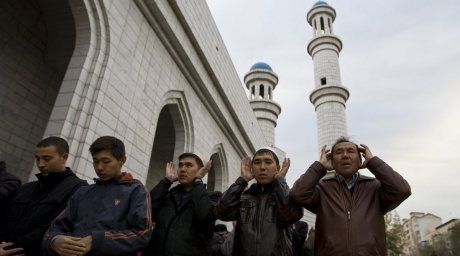 Credit:ReutersOne of the most significant Muslim holidays Eid (Kurban-Ait in Kazakhstan) will be celebrated on October 26 this year, Tengrinews.kz reports citing the website of Khazret Sultan mosque.

"The Moonsighting Committee Worldwide has officially announced that Dhu al-Hijjah month will start tomorrow, October 17. Thus, Kurban-Ait will be celebrated on October 26, 2012," the message states.

The authorities of Saudi Arabia, as well as all Arab countries, considering that Hajj season is aimed for this date and based on the positions of the unity of the Islamic Umm, have approved October 26 as the official Eid date. "The spiritual management of Kazakhstan's Muslims has also officially announced that Kurban-Ait will be celebrated on October 26," the website writes.

Islam is the largest religion practiced in Kazakhstan, as 70% of the country's population is Muslim according to the 2009 national census. Ethnic Kazakhs are predominantly Sunni Muslims of the Hanafi school. Kazakhstan is geographically the northernmost Muslim-majority country in the world. Ethnic Kazakhs constitute over a half of the country's population, and other ethnic groups of Muslim background include Uzbeks, Uyghurs and Tatars. Islam first arrived to the southern edges of the region in the 8th century from Arabs.
tengrinews.kz
October 17 2012, 09:11