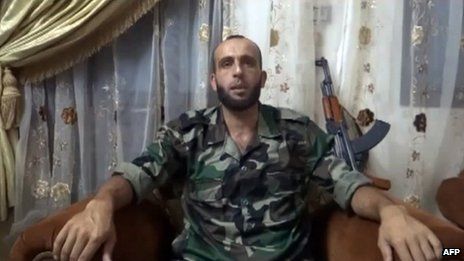 Abdul Qadir al-Saleh was a former businessman known as Hajji Marea
A top Syrian rebel commander has died of wounds he sustained in an air strike on a rebel-held air base in Aleppo province on Thursday, his group says.

Abdul Qadir al-Saleh, the leader of Liwa al-Tawhid, died overnight, a spokesman told the Associated Press.

Abdul Aziz Salama, the brigade's political leader, had assumed overall command, the spokesman added.

Liwa al-Tawhid is one of the main rebel forces in Aleppo and is estimated to have between 8,000 and 10,000 fighters.

It was formed in July 2012 to unite the many separate fighting groups operating in the northern Aleppo countryside. Later that month, it led a rebel offensive on the city of Aleppo and took control of several districts.

In January, Liwa al-Tawhid joined the Syrian Islamic Liberation Front (SILF), an alliance of Islamist groups which mostly recognise the Supreme Military Council of the Free Syrian Army but not the National Coalition.
Government advance

Saleh, a former businessman from the town of Marea, had been meeting other senior figures from Liwa al-Tawhid at the time of the air strike.

Youssef al-Abbas, also known as Abu al-Tayyeb, died soon after the attack. There are conflicting reports about whether he was the brigade's intelligence or financial chief.

Saleh and another senior figure, Abdul al-Aziz Salameh, were meanwhile rushed to a hospital in neighbouring Turkey. The opposition Aleppo News Network reported on Friday that they were in a "good condition".
However, Saleh's subsequently died and was brought back to Syria for burial, Liwa al-Tawhid and activists confirmed on Monday.

"We declare the martyrdom of Abdul Qadir al-Saleh," a statement by the brigade said.

Liwa al-Tawhid arrested 30 people suspected of being government informers following the strike.

"As an individual, he was very, very important, certainly in the Aleppo area, but increasingly as an individual that many in Syria felt represented the revolution," Charles Lister, an analyst at IHS Jane's Terrorism and Insurgency Centre, told the AFP news agency.

"He came from a humble background, was outwardly religious but was very open... and he maintained extremely good relations with almost all groups of all different natures."

He said Saleh's death might "spur on the rebels to launch a counter-attack as the regime advances" on opposition-held parts of Aleppo.

A week ago, Liwa al-Tawhid joined five other rebel groups operating in the city, including the al-Qaeda-affiliated al-Nusra Front, in urging people to "face up to regime attacks".

Their joint statement said government forces backed by fighters from the Lebanese Shia Islamist movement Hezbollah, Iranian Revolutionary Guards and members of Abu al-Fadl Abbas, an Iraqi Shia militia, had launched a "fierce offensive to reoccupy" Aleppo.

Aleppo has been divided roughly in half by the government and opposition since mid-2012, when rebel fighters launched an offensive to gain control of northern Syria.

However, in the past few weeks the army has secured the area around the city's international airport and retaken the strategically important Base 80 nearby. Troops have also captured the towns of Safira and Tal Aran.

Despite the rebel losses, Saleh was resolute in an interview with Opposition Orient Television last week, insisting: "We will not let Iran and Hezbollah advance except over our dead bodies."
November 18 2013, 15:39