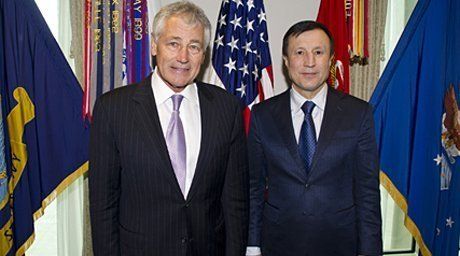 U.S. Defense Secretary Chuck Hagel has discussed cooperation in security and defense with the Minister of Defense of Kazakhstan Adilbek Dzhaksybekov, Tengrinews reports referring to the press office of the Ministry of Defense.

"Defense Minister of Kazakhstan Adilbek Dzhaksybekov arrived on an official visit to the United States of America. The Minister is meeting with Chuck Hagel, U.S. Secretary of Defense," said the pre-meeting report.

At the meeting in Pentagon they discussed the current state of affairs and the prospects of Kazakh-American military and military-technological cooperation development.

Hagel acknowledged Kazakhstan's continuous support of the Northern Distribution Network and stabilization efforts in Afghanistan.

Pentagon Press Secretary George Little reported that "Secretary Hagel emphasized U.S. and Kazakhstan's shared interest in maintaining stability in Afghanistan, and the entire Central Asian region, after 2014, through our existing political, economic, and security commitments."

"Kazakhstan is rendering economic and humanitarian aid to Afghanistan. The Defense Ministry is also part of the Kazakhstan's policies of supporting Afghanistan. We support other countries of the region by helping them improve their defense capacities and ability to maintain their security and counter possible threats," the Kazakhstan Defense Minister said.

The Secretary of Defense, noting the mutual interest of both countries to countering terrorism and modernization of defenses, emphasized the importance of the strategic partnership with Kazakhstan.

The Kazakhstan-American cooperation is of a long-term nature and is based on five-year action plans. It is currently focused on the realms like peace-keeping and military education.

Dzhaksybekov informed the American Secretary that Kazakhstan was transitioning from recruits to a professional army. "American armed forces have ample experience in running a professional army, and we are interested in an experience exchange in personnel management, recruitment, budget planning and social packaging. We are aware that any transformations are only as good and the people who make them, so it is very important for us that Kazakhstan military officers can study in American military schools. We are interested in establishing a cooperation between American and Kazakhstan military schools and are ready to cooperate in military science as well," Dzhaksybekov said.

Kazakhstan Defense Minister invited the U.S. Defense Department and its companies to participate in the KADEX-2014 military equipment exhibition held in Kazakhstan and called the Minister to think of ways of how Kazakhstan and the U.S. could cooperated in defense equipment.

The Kazakhstan military delegation led by the Defense Minister also met with representatives of leading American defense companies like General Atomics, Boeing Defense, OshKosh, Lockheed Martin and Sikorsky. Minister Dzhaksybekov had a number of bilateral meetings with them to discuss mutually beneficial cooperation.

According to the Defense Ministry of Kazakhstan, Adilbek Dzhaksybekov is also planning to meet with Deputy Secretary of State Williams Burns as a part of the visit to the U.S.
November 14 2013, 17:42