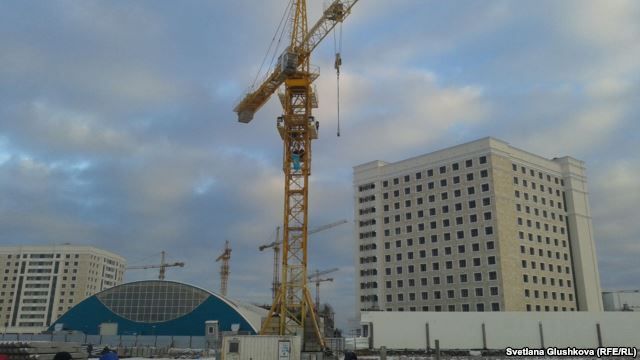 Two women have climbed on a construction crane in Astana, protesting a decision by city authorities to evict them from their house.

Sisters Sandughash Serikbaeva and Uyim Zholdasbekova, who climbed on the crane overnight, say they will stay there until authorities cancel their plan to demolish their home to make way for new construction. The sisters' house is the only private dwelling left in an area near new buildings constructed for Nazarbaev University in the Kazakh capital.

Meanwhile, the sisters' children are also protesting, holding portraits of Kazakh President Nursultan Nazarbaev near the house with graffiti on its wall saying: "You are robbing people using the president's name!"

Serikbaeva said the $32,000 the authorities are offering as compensation will not be enough for the sisters and their nine children to find appropriate housing.
November 12 2013, 10:54