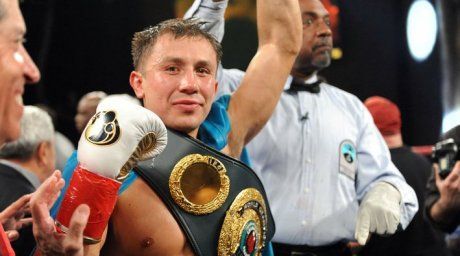 WBA middleweight champion Gennady Golovkin (28-0, 25 KO's) gave Curtis Stevens (25-4, 18 KO's) a methodical beating on Saturday night in stopping him in an 8th round stoppage at Madison Square Garden, in New York, New York, boxingnews24.com reports.
The fight was halted by Stevens' corner after he'd taken an enormous amount of punishment in the 8th round. It was all one-way punishment with Stevens taking huge head and body shots while against the ropes for the entire round.
Golovkin knocked Stevens down with a hard left hook in the 2nd round. Stevens barely made it out of the round, as he was badly hurt when he got up at the count of 7. Golovkin stalked a timid looking Stevens in rounds 3 through 6 in punishing him with head and body shots.The fight became really one-sided in the 7th, as Golovkin pounded Stevens with big shots for the entire round. Stevens was perched against the ropes for the entire round and took some scary head shots. Stevens would attempt to land an occasional shot, but Golovkin did a good job of avoiding most of his punches. The ones that did leak through didn't bother Golovkin at all.
By the 8th round, Golovkin seemed like he didn't care whether he got hit as he stalked a hurt Stevens around the ring hitting him at will.
After the fight, Golovkin said "Sergio Martinez, Peter Quillin, I'm here."
It's not likely that either Martinez or Quillin will ever agree to fighting Golovkin. Neither of them have seemed interested at all in fighting him.
November 3 2013, 16:18