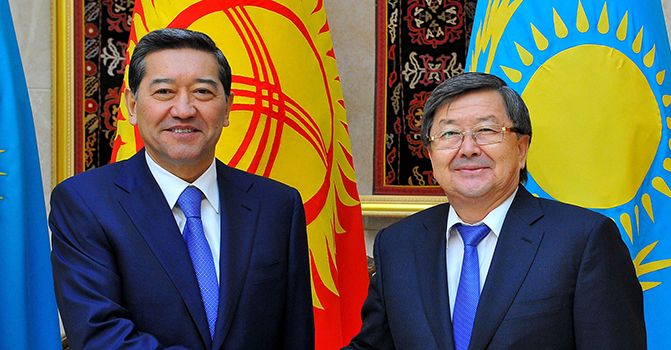 Serik Akhmetov, Rok Prime Minister with his Kygyz counterpart Zhantoro Satybaldiyev during the meeting Prime Minister Serik Akhmetov has met with his Kyrgyz counterpart Zhantoro Satybaldiyev in Bishkek today, Kazinform has learnt from primeminister.kz.
The sides discussed a wide array of topics regarding Kazakh-Kyrgyz relations in trade and economic, cultural and humanitarian spheres.
Prime Minister of Kazakhstan noted the high level of economic cooperation between Kazakhstan and Kyrgyzstan.
"On the instruction of the President, at the end of 2012 bilateral trade volume exceeded one billion U.S. dollars," Akhmetov said.
"We are ready for the big serious dialogue on a wide range of issues of our bilateral relations, first of all, it is the economic and trade cooperation. Our two countries have a high potential for the enhancement of cooperation, however, we there are some issues that we need to address jointly," he stressed.
The Prime Minister of Kazakhstan expressed confidence that the meetings at the level of heads of government would be an additional impetus for strengthening bilateral cooperation between Astana and Bishkek.
November 1 2013, 15:36