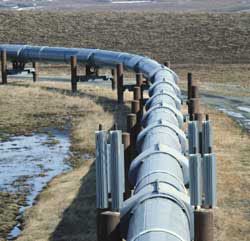 TengizChevroil, a joint venture between Chevron (50% share in the consortium), ExxonMobil (25% share), KazMunayGas (20% share) and LukArco (5% share), will resume oil shipments via the Baku – Tbilisi-Ceyhan (BTC) after a 5-year-long break, Kursiv.kz reports. Analysts tend to believe it is a temporary solution; however, the pipe owners hope for long-term prospects.

The consortium has already designated the Aktau tanker to transport crude from Aktau to Baku to be further pumped to the pipeline. TengizChevroil has been relying on CPC pipelines and supplying crude from Aktau to Batumi via Baku and from Aktau to Kulevi via Baku.

Artem Ustimenko, a senior analyst with the Agency for Agency for Returns on Investments, believes the news was not unexpected as the two sides had been negotiating for a while. "Getting back to the Azerbaijan-wards route, TengizChevroil is trying to diversify its crude supplies to external markets. Given that BTC has spare capacities, the choice is natural given Chevron's stake in the operator of the pipeline", the expert said.

Tengiz is the world's deepest operating super-giant oil field, with the top of the reservoir at about 12,000 feet deep (3,657 m). Chevron holds a 50 percent interest in Tengizchevroil (TCO), which operates the field.

Tengiz is located on the 2,500 square kilometer (1,600 square mile) project license area which includes the super giant Tengiz field, the smaller but sizable Korolev field and several exploratory prospects.

The Tengiz and Korolev fields have potential for an estimated 750 million to 1.1 billion metric tonnes (6 billion to 9 billion barrels) of recoverable oil.
October 30 2013, 09:47