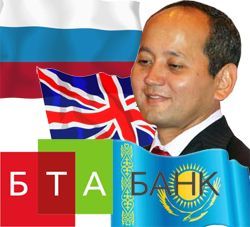 Atyrau city court #2 issued sanctions for 2 month arrests of Asylbek SAIFULLIN, marketing expert of Ellis Region LLP and Zhomart KUSHALIEV, the migration police department inspector of Atyrau Oblast.
According to Boranbai GALIEV, the head of press service of oblast court, the accusations by the preliminary investigation bodies are that "in the period from 2009 till today, as part of the group, on preliminary arrangements repeatedly took bribes that were later transferred to the officials of justice department of Atyrau oblast and department of migration police of Atyrau oblast by the persons who have left overseas. The names of the bribe givers are: Shalabayev Syrym Borambayevich and his daughter, and also Shalabayeva Aigul Galifanovna, Shalabayev Salim Boranbayevich (Syrym's brother), Shalabayeva Alma Boranbayevna (Mukhtar Ablyazov's spouse) and her two sons and a daughter – without being physically present and the absence of registration in the place of residence in Atyrau Oblast, on fictitious data they processed identity proving documents."
On October 7, 2012 as per article 132 of the RoK Criminal Code, they were detained on the suspicion of the above-stated crime. They were charged with accusations on committing crimes specified by items a, b of Article 312 ("Giving bribes"), and p. 4 of article 311 ("Receiving bribes") of the Criminal Code of the Republic of Kazakhstan.
SauleTASBULATOVA
AkZhaik Reference:
Our search on the Internet yielded the following results. You can see the names of those who crossed the borders of Kazakhstan via Atyrau with counterfeit documents in the list of affiliate persons of BTA Bank, which was published by AFN. Syrym Shalabayev, the brother of Alma -Mukhtar Ablyazov's wife and the business colleague of the hiding banker, is also in hiding himself.
According to the Russian Agency of legal and judicial information (RAPSI), in July 2011 the London court sentenced Syrym Shalabayev to 18 months' imprisonment for disrespectful attitude to the court.
To recall, the criminal case against M. Ablyazov was initiated at the beginning of 2009, after transferring his bank under the control of Kazakh "Samruk-Kazyna" sovereign fund. On initiation of proceedings Ablyazov fled from the country and he currently lives in Great Britain. He considers all charges against him are politically motivated. However, in May 2011 the British court refused to acknowledge banks' claim to Ablyazov as politically motivated and confirmed the legality of bank's claims to its former head.
According to RAPSI, court proceedings concerning the ex-head of BTA Bank became the largest fraud case in the history of the London High Court.
The influential British legal magazine The Lawyer included "Ablyazov's case" into twenty the most important legal trials of 2011.
October 12 2012, 16:04