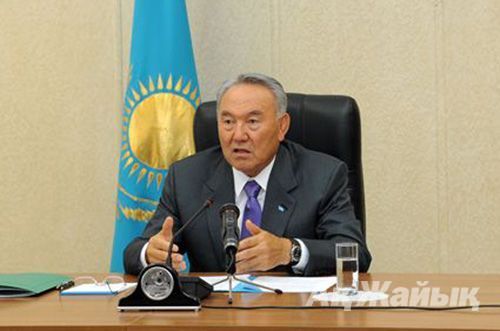 Kazakh president Nursultan Nazarbayev has assured his health is ok and he is ready to work until his current presidential term is over in 2016, IA Novosti-Kazakhstan writes citing the Astana backed channel Khabar.
"They always speak about managers, presidents, that's the most interesting to talk about how theylive. They keep talking that he is ill and he is traveling somewhere. I am not leaving as the people chose me to work through December of 2016. We will complete the work and will see what happens then. Everything, thank God, is all right!" Nazarbayev said meeting people of Uralsk on a work trip to West Kazakhstan Oblast.

The question regarding the health condition of the Kazakh leader was voiced by war veterans, to which he replied he was ok.
At the latest presidential polling held April 3, 2011, the incumbent president of Kazakhstan Nursultan Nazarbayev gained 95.5% of votes.
Observers from CIS recognized the election as democratic, while OSCE, on the contrary, believed the polling was subpar.
Nazarbayev called his victory at the presidential run a sensation for Western nations.
On July 6, 2013 he turned 73.



October 25 2013, 11:01