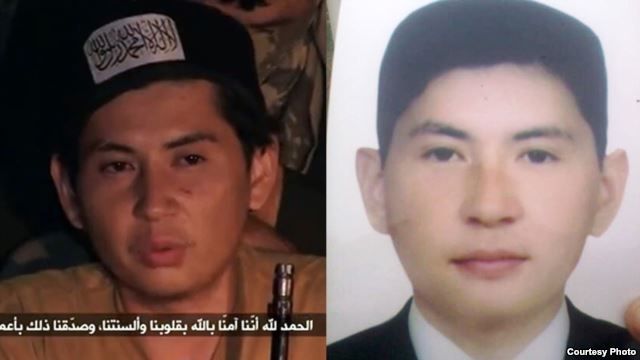 Amanzhol Zhansengirov, pictured left as a purported jihadist in Syria, and right as a budding management student
Family members say they have identified one of the men in a recent video of purported Kazakh jihadists preparing to wage war in Syria and are asking authorities to help bring him home.

The video, posted online earlier this month, shows dozens of young men along with their families assembled at an unknown location.

One scene shows a man wearing a hat emblazoned with an Arabic phrase announcing the wearer is on the path to jihad. He introduces himself as Abu Hafiz al-Kazakhi, but to residents of Maksimovka, a village located outside the Kazakh capital, Astana, the man is known as 27-year-old Amanzhol Zhansengirov.

Speaking to RFE/RL's Kazakh Service, the man's relatives presented an old photo of Zhansengirov. Wearing a dark suit, white shirt, and tie, he bears little resemblance to the gun-wielding man in the video.
"I was shocked when I saw the clip on television," said Kairat Zhansengirov, Amanzhol's older brother. Kairat Zhansengirov said that he last heard from his brother when his brother called home about six months ago.
In that call, Amanzhol said his wife had given birth to a son and promised to return to Kazakhstan in two years. The call was believed to have been made from Turkey.

Kairat Zhansengirov said his brother studied management at an Astana university. However, his career never took off and he subsequently held a number of low-paying jobs.

Eventually, Amanzhol left for Almaty, where according to his family he got a job with a travel agency that involved frequent business trips abroad.

"Amanzhol told us he was offered accommodation, employment, and money in the foreign country to which he was traveling," Kairat Zhansengirov said. "He didn't own a place in Astana and Almaty, and always lived in rented homes."

Verifying The Video

Shortly after the video appeared, authorities in Astana said they were studying the clip to verify if the purported Kazakh jihadists were indeed Kazakh nationals.

In a written response to questions from RFE/RL, the National Security Committee said it is "aware that some Kazakh citizens are fighting abroad" and that efforts are under way to return them to Kazakhstan.

The committee did not comment specifically on Zhansengirov's case or claims made by his family.

Kairat Zhansengirov said that upon recognizing Amanzhol in the video, the family contacted Kazakh authorities and requested that they help bring Amanzhol and his young family back to Kazakhstan.

RFE/RL has not been able to independently verify the authenticity of the video, or the location where it was filmed.

Thousands of people from many different countries are believed to have traveled to Syria to fight in the civil war that has been raging for more than two years between rebel forces and troops loyal to President Bashar al-Assad.
October 24 2013, 16:09