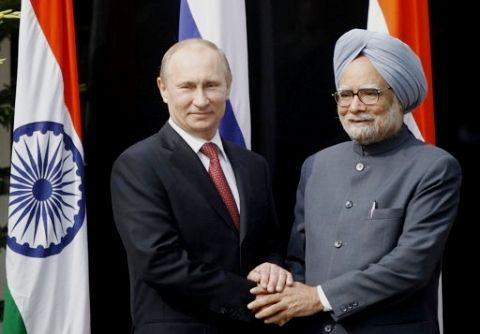 Kazakhstan is playing spoilsport in India's plans of forging a bilateral free trade agreement (FTA) with Russia. In its efforts to diversify export markets beyond the US and the EU, given the on going economic crisis in these markets, India has identified Russia as a key country for intensifying its trade engagement.

Prime Minister Manmohan Singh, who is on a three-day official visit to Moscow, is likely to urge his Russian counterpart Vladimir Putin to take up the matter with Kazakhstan for an early decision.

Kazakhstan seems to be assessing its own relationship with the other members of the Customs Union and seems to be unsure of a Comprehensive Economic Cooperation Agreement (CECA) with India, a senior Commerce Ministry official said.

"We are hopeful that Russia would do its bit in persuading Kazakhstan to give its nod to a prospective trade deal with India as any economic pact with Russia has to necessarily incorporate Belarus and Kazakhstan since they are all members of a Customs Union now," the official told Business Line.

India had proposed setting up a joint study group (JSG) to study the feasibility of a CECA with the Customs Union of Russia, Kazakhstan and Belarus last year. A CECA is a free trade pact that goes beyond goods to include services, investments and other issues such as government procurement.

Since India's exports to Russia in 2012 at $2 billion was less than one per cent of Russia's total global procurement of over $350 billion during the year, there is a huge scope for increasing shipments to that country.

Areas such as infrastructure development, aviation, power generation, shipbuilding, energy, bio and nano-technologies, fertilisers, pharmaceuticals and chemicals, agricultural and food items, automobile industry and diamonds are significant areas of cooperation, according to an assessment by the Commerce Ministry.

While both Russia and Belarus have given their consent to set up the JSG, the idea has not taken off due to resistance from Kazakhstan, a Commerce Department official said.

"We are in talks with the Kazakhstan Government through various channels including our embassy there, but have not received positive signals yet," the official said.

The Russia, Kazakhstan, Belarus Customs Union was forged in 2010 as a first step towards forming a broader European Union-type economic alliance of former Soviet states.
October 23 2013, 17:15