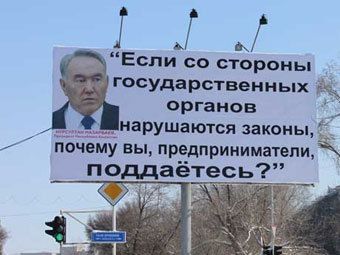 A village head, 49, beat up a woman after she photographed a billboard with Nazarbayev's picture fallen on the ground.
The incident took place May 29, 2013 in the village of Kalam-Su, Kostanai Oblast, North Kazakhstan.
Zhanna Yerekina saw a billboard with Nazarbayev lie on the ground next to the village administration building and took a picture of it.
The head of the district Kanatbai Turmagambetov noticed her do it and summoned her to his office. The woman found herself virtually at an interrogation where the official wanted to find out why she had been photographing the overturned picture of the president. "For Internet or to send to a newspaper?" he asked.
Then, police papers say, the man gripped her by the throat, "hit her head against the wall, punched in chest a few times and kicked."
According to a medical report, the woman received "light harm to health" - brain commotion and bruises on various parts of the body.
Zhanna tried to achieve punishment for the agressor, but the district court chose to drop the case against the governor.

The victim says while she was in the hospital, witnesses changed their testimony, as the violator was the senior official in the area. So she appealed to the higher instance - the provincial court.

October 21, the Kostanai Oblast Court considered the civil case upon a complaint and found the governor guilty forcing him to pay a penalty of 86,550 tenge ($570).
October 23 2013, 14:15