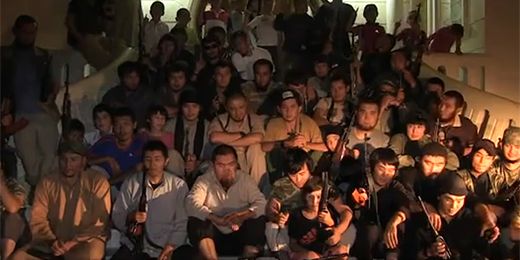 150 Kazakhs reportedly in Syria. A Youtube screenshot
In an interview to journalists, deputy chairman of Kazakhstan's National Security Committee Nurgali Bilisbekov said he doesn't challenge the information about Kazakh citizens currently being in Syria, BNews reports.
"We are bothered about them making illegal actions in someone other's country. As all of these are regulated by international agreements, we are obliged to respond to these things," he said.
The high-ranking security official confirmed that 150 Kazakh citizens are now on the territory of Syria.
"Yes, there are our citizens who come from various provinces. I suppose the video was made for propaganda purposes by non-Kazakh citizens," he added.
As foreign ministry noted, seemingly, the mentioned people could reach Syria without Syrian visas through refugee camps in Turkey, a country Kazakhstan has established a visaless regime with.

"National Security Committee is carrying out relevant operations in association with all concerned agencies to bring our citizens back from those places and prevent them from travelling abroad for such purposes," Mr Bilisbekov concluded.

In turn, deputy chairman of Religious Affairs Agency Azilkhanov stated that in Kazakhstan some external forces are recruiting Kazakh nationals to radical movements.

"Unfortunately, this is another result of expansion of global digital opportunities, as any person can obtain any preach via the Internet, also of a radical manner," Mr Azilkhanov said.

The religious agency official believes the process has the other side as well. This has demonstrated that by the moment of adult age, some youth fail to develop immunity against radical ideologies, he says.

"That's not only our problem. In particular, the media aired an information that there are nearly 500 European citizens fighting in Syria - from France and Switzerland. The work with youth is becoming more important, and that's what we're doing now," he added.

To recall, France 24 circulated a report supplemented with a video of 150 citizens of Kazakhstan arriving in Syria to lead the Holy War Jihad against the Assad forces.
October 23 2013, 10:38