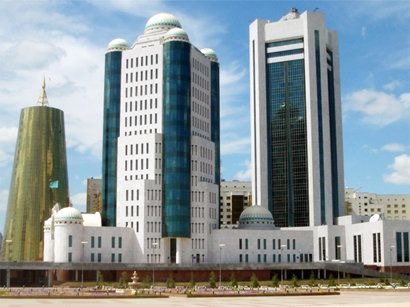 Kazakhstan's Majilis (lower chamber of parliament) has ratified the amendments to the 'Protocol' on the terms and procedure for applying import customs duty rates differing from rates prescribed by the Unified Customs Tariff in exceptional cases, trend.az reports.
"In exceptional cases and on the basis of the commission's decision, one of the sides may apply a higher or lower rate of import duty in regard to the goods, compared to the current rate of Unified Customs Tariff," Kazakh Minister of Economy and Budget Planning Erbolat Dosaev said, speaking on Wednesday at a meeting.
Dosaev also explained that the higher rate may be applied by one of the sides, if such a measure is a necessary condition for the development of the industry of that state.
Applying a lower rate may be requested in the case of an acute shortage of goods in the domestic market which largely depends on traditional imports from third countries and which cannot be satisfied by the production of the same or similar goods in the Customs Union countries.
In line with the main Protocol dated 2008, the period of application of a higher or lower rate by one of the sides may not exceed six months.
Taking into account the need for a long term use of other rates of the Unified Customs Tariff, the sides have agreed to modify the terms of the Protocol of 2008 which allows applying rates differing from the rate for a longer period.
The Protocol on changes provides for bringing the norms of the main Protocol to conformity with the provisions of the Treaty on the Eurasian Economic Commission dated November 18 2011, and in particular, the abolition of the Customs Union's Commission and transfer of authority to the Eurasian Economic Commission.
October 18 2013, 16:41