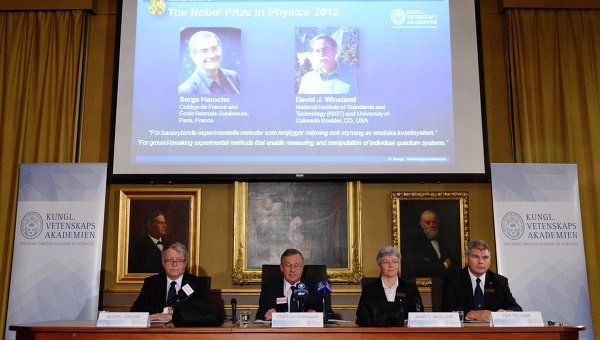 Eleven laureates of the Nobel Peace Prize have petitioned the Russian president, asking him Thursday to aid the release of the 30 Greenpeace activists charged with piracy in Russia.
"We are writing to ask you to do all you can to ensure that the excessive charges of piracy against the 28 Greenpeace activists, freelance photographer and freelance videographer are dropped," said the letter, available on Greenpeace's website.
The signatories include South African archbishop Desmond Tutu and Iranian lawyer Shirin Ebadi.
The letter maintains that the activists, whom Greenpeace has dubbed the "Arctic 30," were engaged in a peaceful nonviolent protest when they tried last month to scale an Arctic oil rig belonging to a subsidiary of Russian state energy giant Gazprom.
The laureates' letter also repeated Greenpeace's claims that drilling for oil in the Arctic poses a major risk to the environment.
A spokesman for Vladimir Putin dismissed the letter Thursday, saying it was addressed to the wrong person.
"Everyone should wait until the investigation's over and the court verdict has been passed. That's the law," Dmitry Peskov said.
Russian border guards seized the Greenpeace icebreaker, the Arctic Sunrise, last month after the oil rig standoff. All 30 people on board were taken into custody and charged with piracy, punishable with up to 15 years in prison.
Putin said shortly after the ship's seizure that he did not believe the people on board to be pirates.
However, Russia's Investigative Committee – which is directly subordinate to Putin – still charged them with piracy, a move that Peskov has called proof of the agency's independence.
The Nobel laureates were unexpectedly echoed by Paolo Scaroni, the CEO of Italy's oil and gas giant Eni, Italian daily Corriere della Sera said Wednesday.
Scaroni urged Gazprom head Alexei Miller last week to back the release of the "Arctic 30," who include an Italian citizen, the newspaper reported, citing Scaroni's letter to his Russian colleague.
Miller had not commented on the proposal as of this article's publication. Gazprom said earlier that the oil rig targeted by Greenpeace will start drilling in the Pechora Sea by the year's end.
October 18 2013, 10:13