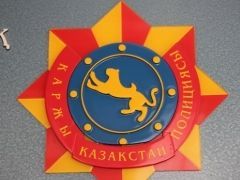 Information statement of M. Zhumanbai, the official representative of the Agency of the Republic of Kazakhstan for countering economic and corruption crimes (financial police).
Earlier we reported that the investigation-operative group of the Financial Police Agency is investigating 13 criminal cases initiated on the facts of corruption crimes committed by the officials of Atyrau Oblast Akimat and contracting companies causing the damage to the state for total amount of over 16 bn tenge: 4 Atyrau Oblast Akimat officials were arrested on a charge of committing specified crimes, 1 is under the house arrest, 2 heads of contract companies have been also arrested, 1 is under house arrest, 5 persons are on the wanted list.
Besides, Amanzhan Ryskali was announced wanted on charges of fraudulently acquisiting 9 apartments of total price 200mln tenge. Investigation team of the Financial Police launched another 8 criminal proceedings on budget stealings, abuse of authority and pseudo-entrepreneurship between October 2 and 8. For example, on October 2, two proceedings were launched in relation to Atyrau Oblast Akimat officials on charges of abuse of authority by illegally granting lease of 50 Daewoo BS 090 buses on a reduced cost - 26.7mln tenge, hereby inflicting damage to the state, and illegally privatizing them for 31mln tenge given the estimated value of the buses was 126.3mln tenge.
On October 3, they initiated a criminal proceeding in relation to officials of Atyrau Oblast Department of Passenger Transportation and Motorroads, OblTasJol State Organization and Kurylys-Kyzmet-S LLP on charges of stealing budget money amounting 7.7bn tenge allocated for construction of two bridges across the Ural River. On the same day, some Akimat officials and citizens such as R. Alibakassov and A. Ryskali were charged of stealing budget funds - 176mln tenge - allocated for gasifying the villages in the Kurmangazy District.
On October 5, a criminal case was launched on charges of stealing budget money amounting 916mln tenge allocated for procurement of marine equipment for Zhaik-Balyk, a state owned organization. On October 6, a criminal case was launched against officials of Atyrau City Construction Department and Tur-Ar Stroy LLP on charges of stealing 240.3mln tenge from budget during the construction of communal housing in Atyrau.
On October 8, two criminal cases were launched against O. Pavlichenko, A. Koritskiy, A. Zhanazarov and A. Kadirchenov suspected in helping counteragents to avoid tax payment by using transaction accounts of such 'paper' companies as Atyrau Build Construction Company LLP and Stroitelno-Montazhniye Raboty-Komfort, hereby inflicting damage to the state in the amount of 3.7bn tenge. Currently Financial Police is at work upon returning the funds to the budget.
By today, entrepreneurs have voluntarily signed papers to return illegally privatized 13 facilities, including gas supply ones in Atyrau and six oblast districts, administrative buildings, vehicles and other special equipment, to the ownership of the state.
The price of property that has been returned to the public ownership makes 20bn 960mln tenge. Besides, with the purpose to further compensate the damage, the investigation team has arrested 208 items of property that include:
- 45 land plots;
- 50 primary and auxiliary facilities (administrative buildings, dwelling houses, office venues and apartments);

- 5 shares in charter capitals of commercial organizations;

- 10 vehicles;

- 90 items of various equipment;

- 8 bank accounts of the total amount of 690mln tenge.

For further arrest, the work to establish property owned by the accused is continuing. Criminal proceedings are in process. Other details are not disclosed for investigation reasons.
October 12 2012, 10:41