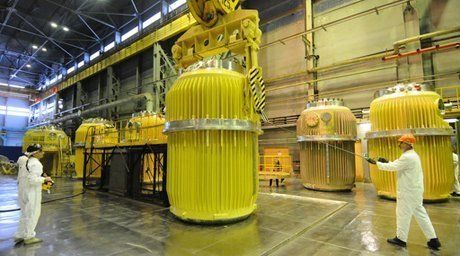 The planned international nuclear fuel bank to be hosted in Kazakhstan poses no environmental risks, Tengrinews reports, citing the country's Foreign Minister Erlan Idrissov as saying before the country's Senate.

"The Foreign Ministry and the Committee for Nuclear Industry within the Ministry of Industry and New Technology are working towards [bringing the plan of hosting the fuel bank to life]. Recently the International Atomic Energy Agency (IAEA) Secretary General visited Kazakhstan. In an interview he dwelt on the essence of the international nuclear fuel bank; the bank poses no environment threats and highlights Kazakhstan's contribution into the global efforts of nonproliferation and peaceful use of nuclear power", the Minister said.

He elaborated that the Foreign Ministry had worked out a plan to raise public awareness of the fuel bank, with the conditions of storage being discussed with the IAEA.

"Ulba metallurgical plant [engaged in production of hi-tech uranium, beryllium and tantalum products for the needs of the nuclear power industry] deals with low-enriched fuel to be stored in the international nuclear fuel bank. The bank will be storing a total of 60 tons, which is a small volume. The Ulba plant annually stores over 1000 tons; there has been no threat", the Minister said.

"The international uranium market is instable; the problems are indirectly related to Iran and North Korea. They are concerned they may face fuel shortages to keep their power plants working. Hence the idea of a n international fuel bank under the aegis of the IAEA . If need be, these countries will be able to purchase uranium for their power plants at reasonable prices with no political obstacles", the Minister said.

A nuclear fuel bank is a proposed approach to provide countries access to enriched nuclear fuel, without the need for them to possess enrichment technology. The basic concept is that countries who do have enrichment technology would donate enriched fuel to a "bank", from which countries not possessing enrichment technology would obtain fuel for their power reactors.

Back in 2009 Kazakhstan's President Nursultan Nazarbayev suggested hosting an international nuclear fuel bank in the Kazakh territory. The idea was approved of by the IAEA in 2011.

The Kazakh Agency for Nuclear Power was launched May 7, 2012.

The IAEA is the world's center of cooperation in the nuclear field. It was set up in 1957 as the world's "Atoms for Peace" organization within the United Nations family. The Agency works with its Member States and multiple partners worldwide to promote safe, secure and peaceful nuclear technologies.
October 17 2013, 14:27