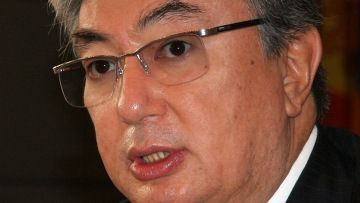 Kassym-Jomart Tokayev, ex-Director-General of the United Nations in Geneva, was unanimously elected as the Chair of the Senate (Upper Chamber) of the Parliament of Kazakhstan, reports AkZhaik newspaper.
His candidacy was proposed by President Nazarbayev. "I propose to elect Kassym-Jomart Tokayev, a well-known person to you all, as the Chair of the Senate. I released Kairat Mami from this position on his request to return back to his professional activity", said the President.
Nazarbaev noted that Tokaev's work at the United Nations European Office was a great honour for Kazakhstan.
Born in 1953, he is a graduate of the Moscow State Institute of International Relations, the Beijing Institute of the Chinese Language and the Diplomatic Academy of the Ministry of Foreign Affairs of the Russian Federation, and he holds a doctorate of political science.
He served as Minister for Foreign Affairs (1994-1999), Secretary of State, Ministry of Foreign Affairs (2002-2007), and as Prime Minister of Kazakhstan (1999-2002). Married with one son.
October 16 2013, 18:57