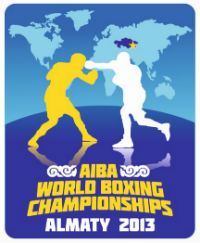 The 17th AIBA World Boxing Championships Almaty 2013 is underway in Almaty, Kazakhstan. 576 boxers (excluding the reserves) have been registered by 116 countries (Indian boxers will compete under the AIBA flag) around the World, reportrs eubcboxing.org.
The Baluan Sholak Palace of Culture and Sports is the ringside of this Historical Edition, which includes the removal of the headguard for elite men and a change in the scoring system to the ten point must system.
AIBA Men's World Championships is the signature event on the AIBA calendar going back 39 years to its beginnings in 1974 when the AIBA Men's World Championships made its debut in one of the heartlands of boxing - Havana, Cuba.
Boxers aged 19 to 40 are united every two years to compete against the best in their division from around the world. The athletes participate in the official 10 weight categories in accordance with the AIBA Technical Rules and AOB Competition Rules with hopes of claiming ultimate glory, becoming a world champion.
Fore results see: http://www.eubcboxing.org/aiba-world-boxing-championships-almaty-2013-day-2-results-both-sessions-and-daily-schedule-15-16-17-oct/
October 16 2013, 11:06