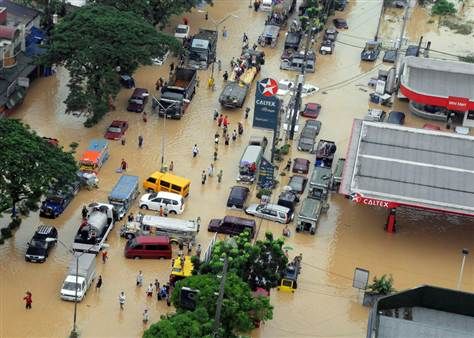 The death toll from magnitude 7.2 earthquake in central Philippines rose to 67, the National Disaster Risk Reduction and Management Council (NDRRMC) announced on Tuesday.
According to the state agency, most of the fatalities or 57 came from Bohol, nine from Cebu province, including the cities of Cebu and Mandaue, and one from Siquijor.
Meanwhile, 164 individuals were also injured, it added.
As of 5:00 p.m. local time, the Philippine Institute of Volcanology and Seismology has recorded 289 aftershocks.
Rescue and assessment operations have been ongoing in central Philippines, power outages remain in Bohol, Iloilo, Cadiz City and some areas of Caraga NDRRMC said.
The quake occurred at 8:12 a.m. local time with a depth of 33 km. As the most powerful quake to the Visayas and Mindanao regions in decades, Tuesday's quake toppled or destroyed 22 churches and other Spanish-era structures in Bohol, including the more than 200- year old Loboc Catholic church in Loboc town.
It also devastated Cebu, a city of more than 1 million people, located just a boat ride from Bohol.
Local officials have declared a state of calamity in Cebu and Bohol.
A landslide occurred in the town of Boljoon, according to Cebu Governor Hilario Davide III.
The quake was so powerful that the shaking as strong as Intensity V was felt in Camiguin island in Mindanao, and in Davao City at Intensity III, several hundreds of kilometers away.
"I was worried for my sister after she called me up. They felt a very strong shaking and several of her colleagues were hurt by falling objects," said Melody de Vera, a provincial employee in Agusan del Sur whose sister, Alona, 22, is a geology intern in Maribojoc, a seaside town in quake-stricken Bohol.
"She said they were inside their office near the sea and they had to run to a nearby hill as they saw the sea moving back, fish stranded at the beach," De Vera told Xinhua by mobile phone. " She could not be contacted anymore. It could be her cellular phone battery was already out."
The Philippines has been frequently hit by earthquakes, owing to its location at the so-called Pacific Ring of Fire, where continental plates collide, which trigger quakes and frequent volcanic activity.
October 15 2013, 18:11