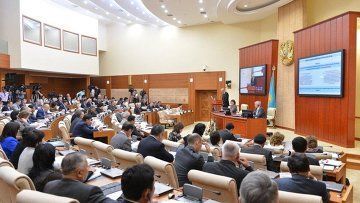 Lower chamber of Kazakh parliament has approved a draft bill on amendments to some taxation-related legal acts of Kazakhstan in the first reading, writes IA Novosti Kazakhstan.
The new law provides norms to execute the concept of the new budget policy on the part of strengthening fiscal functions of some taxes in taxation of luxury items (alcohol and tobacco excises, car and housing taxes), as well as to actualize decisions by the advisory council for taxation.
"The draft bill concerns issues of tax policy and tax administration. In order to increase economic return from tax system, the draft provides norms of increasing rates of individual property tax, car tax and land tax," said Minister of Economy and Budget Planning Yerbolat Dossayev, presenting the draft in the Majilis.

He also added that with the purpose to discourage population from consumption of socially-harmful goods, the bill envisages higher rates on alcoholic products.

"At that, it will affect strong alcholic drinks only. Low alchol products will be discussed in 2014," minister explained.



October 9 2013, 11:24