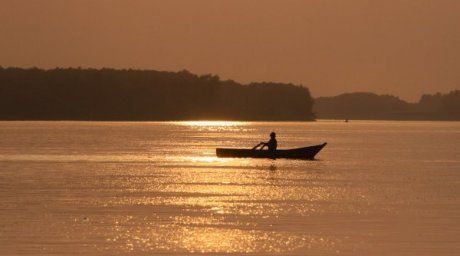 Irtysh river
Kazakhstan is considering constructing a water canal to link the Irtysh River to the Ishim River across Astana, Kazakhstan's capital city, Newskaz.ru reports, citing the country's Environment Minister Nurlan Kapparov as saying in the country's Majilis (lower chamber).

"The Government has started considering a new project suggested back in the Soviet times. A project to construct a water canal across the city of Astana to link the Irtysh River to the Ishim River", Mr. Kapparov said, adding that "according to some estimates, the 340-km-long canal is to supply water to about 30 villages and minor settlements. The project is valued at $3.3 billion".

According to the Minister, "along the canal, three artificial lakes could be built, with one of them capable of holding 2 cubic meters of water to be built 30 km away from Astana". The Minister believes the measures will lay foundations for a new recreation zone in the vicinities of Astana.

"In the Burabai resort zone, the overall capacity of all the three lakes stands at less than 300 million cubic meters. One artificial reservoir near Astana could accommodate 8 times more water (…) the area of arable lands along the canal could be increased by almost 100 000 hectares", the Minister said.

The Minister elaborated there was another project drafted by the Astana Mayor Office to construct two water supply canals to connect Astana and the Irtysh-Karaganda water canal. "This project is estimated at $700 million. When completed, the canal is to supply about 170 million cubic meters of water a year".

"We have to choose between the first project that will take 10 years to complete and enable to solve a range of water issues and the newly drafted project worth $ 700 million", he said.

The Irtysh River is a 4248-km-long transborder river running across China, Kazakhstan and Russia.
October 8 2013, 16:36