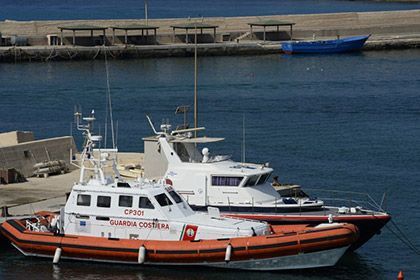 A ship carrying African migrants toward Italy caught fire and capsized off the Sicilian island of Lampedusa Thursday, spilling hundreds of passengers into the sea, officials said. Ninety-four bodies were recovered and more than 200 people were unaccounted for.

Pietro Bartolo, the top health official on Lampedusa, said Thursday he expected the toll to rise as search operations continue. He spoke to Sky TG24.

It was one of the deadliest accidents in recent times during the notoriously perilous crossing from Africa for migrants seeking a new life in the European Union.

In an indication of the scale of the unfolding tragedy, Interior Minister Angelino Alfano canceled his appointments Thursday and headed to Lampedusa to oversee the rescue operations first-hand. Pope Francis, who visited Lampedusa in July, quickly sent his condolences.

"It's an immense tragedy," said Lampedusa Mayor Giusi Nicolini, adding that the dead included at least one child of about 3 and a pregnant woman.

The migrants were from Eritrea, Ghana and Somalia, the coast guard said.

The boat is believed to have been carrying as many as 500 people.

Coast guard ships and helicopters from across the region, as well as local fishing boats were on the scene trying to find survivors, said coast guard spokesman Marco Di Milla.

Mayor Nicolini said the ship had caught fire after those on board set off flares so it would be seen by passing ships. The ship apparently then capsized, spilling the passengers into the sea near Conigli island.

It was one of the deadliest migrant shipwrecks in recent times and the second one this week off Italy: On Monday, 13 men drowned while trying to reach southern Sicily when their ship ran aground just a few yards from shore.

Lampedusa is closer to Africa than the Italian mainland and is the frequent destination for smugglers' boats. Hundreds of migrants reach the shores every day, particularly during summer months when seas are usually calmer. They are processed in centers, screened for asylum and often sent back home.

Those who aren't usually melt into the general public and make their way to northern Europe, where immigrant communities are much bigger and better organized. In Italy, migrants can only work legally if they have a work permit and contract before they arrive.

According to the U.N. refugee agency, 8,400 migrants landed in Italy and Malta in the first six months of the year, almost double the 4,500 who arrived during the first half of 2012. It's still a far cry from the tens of thousands who flooded to Italy during the Arab Spring exodus of 2011.

The numbers, though, have spiked in recent weeks, particularly with Syrian arrivals.

The U.N. High Commissioner for Refugees had recorded 40 deaths in the first half of 2013, and a total of 500 for all of 2012, based on interviews with survivors. Fortress Europe, an Italian observatory that tracks migrant deaths reported by the media, says about 6,450 people died in the Canal of Sicily between 1994 and 2012.
October 3 2013, 17:38