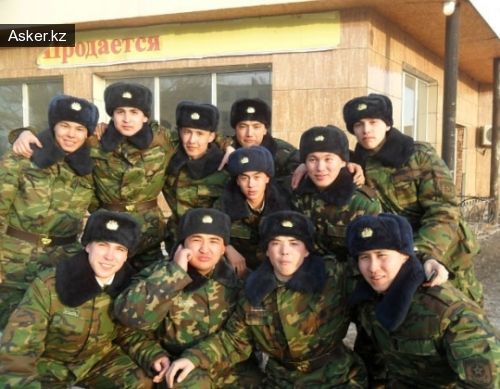 Arkankergen soldiers a few months before the incident. Private Chelakh standing first from right
Families of border guards massacred at Arkankergen outpost near Chinese state line in 2012 have been paid T3.5 million ($23,000) each as a compensation, according to a press release of Kazakhstan's border service, writes IA Novosti-Kazakhstan.
"13 families have received compensation, except the family of Denis Ray, whose relatives do not believe he is dead," the message reads.

Neither Kazakh experts nor specialists from foreign clinics could identify the body of Private Ray and other two border guards.

The massacre at the seasonal border post of Arkankergen, where 15 servicemen were quartered during summers, happened in late May of 2012.
Connection with the post was lost and to there was referred a border patrol unit from the neighboring garrison.
Upon arrival, they discovered that the barrack had been burnt down with 14 border guards inside.
In a hunting box situated close to the post, they found a dead forest ranger.
Days later, was apprehended 19-year-old Private Vladislav Chelakh, the only soldier to survive in the massacre.
Initially, he admitted to have killed his fellow servicemen and the ranger, however, soon refused his evidence claiming to have given them under pressure.
December 11, 2012, a military court sentenced him to life.

Moreover, the court satisfied claims against Chelakh worth over 32.8 million tenge. In particular, the military garrison where Chelakh was serving, demanded that Chelakh recovers over 7.8 million tenge for the material damage incurred as the result of fire at Arkankergen.

The court also partially satisfied claims from families of five victims, who wanted Chelakh to pay them for moral damage. According to the judge's ruling, Chelakh should pay 5 million tenge to every complainant.

October 3 2013, 14:57