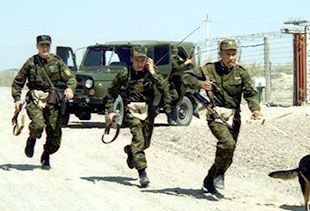 Kazakh border guards were attacked by 5-6 horsemen and a group of people in a Mitsubishi Pajero SUV without number plates 7 kilometers from the Kazakh-Kyrgyz border, Kazinform citing the Kazakh Border Service.

The defending soldiers made seven shots into the air and the perpetrators fled to the mountains.

The incident happened when Kazakh servicemen were escorting 16 horses, which the trespassers had attempted to smuggle from Kyrgyzstan to Kazakhstan at Sortobe border post and fled back to Kyrgyzstan after being detected by Kazakh border guards.

At the moment, the border guards and regional department of the Interior Ministry are searching the unidentified abusers. A similar SUV was found not far from the scene.
October 1 2013, 16:12