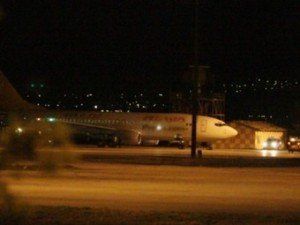 Credit:Kursive.kzTurkish officials have accused a Syrian passenger plane of carrying "illegal cargo" between Moscow and Damascus.
Turkeyintercepted the plane over suspicions it was carrying military equipment. It was allowed to leave after hours of searches.
Russiahas demanded an explanation and accused Ankara of putting the lives of Russian citizens at risk.
Tension between Turkey and Syria has been high since five Turkish civilians were killed last week by mortar bombs.
In response, Turkey fired into Syria for the first time since the uprising against President Bashar al-Assad began last year.
'Air piracy'
Turkey's Foreign Minister Ahmet Davutoglu said "objectionable" cargo had been confiscated from the plane.
"There is illegal cargo on the plane that should have been reported," he told the Anatolia news agency.
He did not specify whether any weapons had been found, but unconfirmed reports in Turkish media said the seized items included boxes of military communication equipment.
The foreign minister said the authorities would continue to investigate Syrian passenger planes flying over Turkish air space.
Turkeyimposed an arms embargo on Syria last September.
Syrian Transport Minister Mahmoud Saeed accused Turkey of carrying out "air piracy" and breaking civil aviation agreements, according to Lebanon's al-Manar TV.
In another sign of deteriorating relations, Turkish officials revealed on Thursday that Syria had stopped buying electricity from its neighbour last week.
Energy Minister Taner Yildiz said Turkey was prepared to resume supplies if it was asked.
After a Turkish fighter jet was shot down by Syria in June, Ankara warned Damascus that it would consider cutting power supplies to northern Syria but did not follow up on the threat.
'Spare parts'
Turkeyhas also risked souring ties with Russia, which has reacted angrily to the latest incident.
The Russian Foreign Ministry said in a statement that diplomatic staff were refused access to 17 citizens on board during the eight hours that the flight was held up.
The statement said the lives and safety of the passengers had been "placed under threat" and Moscow wanted an explanation.
Russia's state arms supplier Rosoboronexport said in a statement it had no information about the plane's cargo, and denied it had any connection with the flight or anything on board.
Earlier, Mr Davutoglu had said Ankara was determined to stop any transfer of weapons to Syria through its airspace.
He said Ankara had received information that the Damascus-bound plane could be carrying "non-civilian cargo".
The Airbus A320 airliner had about 30 passengers on board, far fewer than its 180 passenger capacity.
The aircraft was escorted by two Turkish fighters to the capital's Esenboga airport for security checks.
It was allowed to take off at 02:30 (23:30 GMT on Wednesday), after several hours on the ground.
One passenger, Fatima el-Saman, told Turkish newspaper Hurriyet that there were no weapons on the plane.
"They were spare parts exported to Syria by a Russian businessman, as far as I could see," she said.
Meanwhile, the Turkish authorities have declared Syrian airspace to be unsafe and are preventing Turkish aircraft from flying over the country.
bbc.co.uk
October 11 2012, 15:25