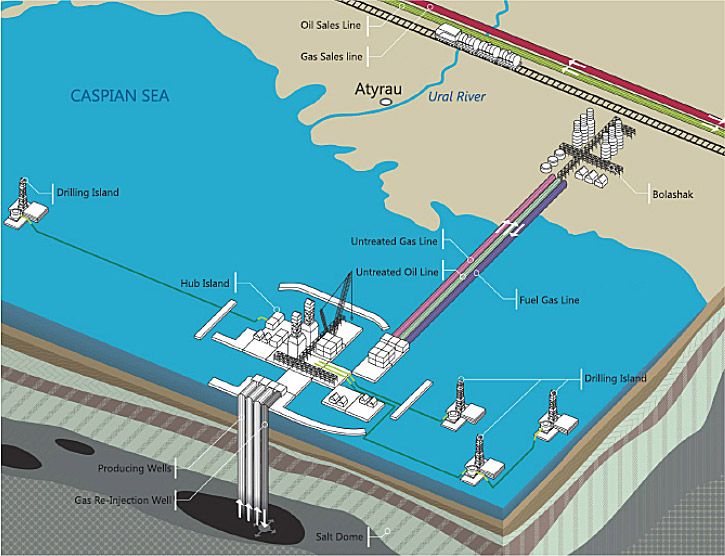 North Caspian Project. Source: ncoc.kz
No relaunch date has been set for the giant Kashagan oil field that was shut-in Thursday due to a gas leak, the NCOC consortium, which is developing the field said in a statement Monday.

The field had been due to reach a commercial production level of 75,000 b/d by October.

"It is still premature to give the production restart date," the statement said, adding that the source of the leak had been identified and repair works had started Saturday.

Late last week, regional authorities said the repair works may be finished over the weekend, leading to a restart of the field.
The shut-in is a major setback for the Kashagan project, which has been plagued by technical problems and delays, and only started production September 11.

On Thursday, Kazakhstan's oil and gas minister Uzakbay Karabalin was reported as saying the gas leak would not prevent the field from reaching the commercial crude production level of 75,000 b/d by October, as stipulated by the field development contract with the Kazakh state.

It is not clear whether a delay in achieving the target would result in any penalties for the NCOC shareholders.

The NCOC was unavailable for an immediate comment when contacted by Platts.

During the first days of operations production at Kashagan reached around 40,000 b/d, according to Kazakhstan's oil and gas ministry.

The gas pipeline that brings gas from Kashagan to the onshore gas treatment plant started leaking last Thursday morning, forcing NCOC to put all production facilities on standby.

Kashagan holds around 38 billion barrels of oil in place, of which 13 billion barrels is proven recoverable reserves, making it the largest offshore crude field outside the Middle East.

In 2014, Kashagan is expected to produce 8 million mt of crude, or an average of 160,000 b/d, Karabalin said last week.

The shareholding structure of NCOC is being reshuffled due to the exit of US major ConocoPhillips and entry of China's CNPC.

Once the reshuffle is complete, NCOC is set to comprise Kazakhstan's state-owned KazMunaiGaz (16.88%); Italy's Eni, ExxonMobil, Shell and France's Total (16.81% each); CNPC (8.33%) and Japan's Inpex (7.56%).
October 1 2013, 11:23