By Laura Suleimenova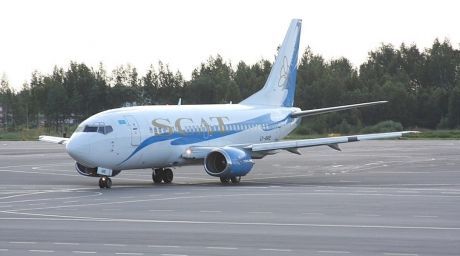 According to media, shortly after boarding the Atyrau-Astana plane, a passenger known as Bilgali called over a female flight attendant of Russian ethnicity and speaking in Kazakh complained about a spelling mistake in a Kazakh note written on the chair in front of him. The girl understood no word in Kazakh so walked away to ask help from a colleague. The second stewardess did not speak the language too and the man gave them a row. Later, when the two girls were serving food and beverages after the plane took off, the man allegedly kicked one of them. The only person to cool down the outraged passenger was Nurlan Nogayev, the governor of the West Kazakhstan oblast traveling on the same plane, recommending the troublemaker to file a formal complaint to the air company management when on land, but not to ordinary employees when in the air.
"I made no apology to anybody. On the contrary, the steward girls said sorry to me when on board," says former governor of Makat district of Atyrau oblast Meyrambek Bilgali, who is considered to have instigated an incident on a SCAT plane performing Atyrau-Astana flight on September 18.
The air company officials later confirmed the incident indeed took place and told media that upon landing in the Astana airport, Mr Bilgali wrote an explanatory note and even allegedly apologized.
To Ak Zhaik's reporter on the phone, Mr Bilgali himself commented the case as follows:
"I was flying at 8.30 that day on business purposes. But the flight was late for almost two hours and nobody from SCAT explained us the reasons for the delay. After waiting an hour I went to SCAT office to get explanations. The company's employee whose name was Mariya Lapcheva told me the plane was performing the flight on the route Krasnodar-Aktau-Atyrau-Astana, and it still had not left Aktau. The language row began there already. Lapcheva spoke Russian to me, though, as I had noticed, she knew the Kazakh language. I made a remark on the point and irritated she asked back why I was against using the Russian language. I answered that I spoke excellent Russian as I completed a university in Volgograd and to obtain required information in Kazakh was my constitutional right. After that I filed an application to SCAT's director Mr Denissov and took the copy of the letter with me after it was registered."
When boarding, the flight attendants greeted us in Russian only, though I had warned Lapcheva who was escorting us to the plane that services should be provided to me in Kazakh. When on board I spotted two spelling mistakes in a Kazakh note requesting to fasten belts. I called a stewardess to show the misspelling. She said she would ask fellow stewardess who spoke Kazakh. But I received no reasonable answer from the second one too. When one of them was passing by handing out sweets I repeated my question, but again received no answer, except an arrogant statement "I don't speak Kazakh!". This made me angry and I got on my feet and walked to her "Aren't you taking us for humans?". In between us appeared a man, who, as I learnt later, was Nurlan Nogayev. He asked me to sit down. But the insult kept me restless, and I admit, I couldn't help myself from kicking one of the girls when they were serving food."

A noise emerged in the cabin and Nurlan Nogayev in an attempt to calm me down claimed my discontent was fair, but I'd better complain upon arrival in Astana, not in the plane. Plane commander threatened me that he would make emergency landing in Aktobe. I demanded a journey sheet to file my complaint and left a copy with me. After that I saw everybody sign some paper after what the two girls verbally apologized to me.
When landed in Astana I was invited to the SCAT office, where were already sitting the plane commander and the flight attendants writing explanatory notes. I was asked to do the same. I wrote down my version and left".

Did you eventually apologize for your behavior on the plane?

Of course not. Why? For asking service in the state language? For a reason I am keeping the copies of the explanatory notes so they can not accuse me, as it happened in a similar case with another passenger recently, who was arrested for two days after he formally said sorry. By the way, two days later when I was traveling back the flight was served by Aliya Aitpayeva and Imran Gassanov who spoke perfect Kazakh and the notes on chairs had been revised.



September 27 2013, 16:44