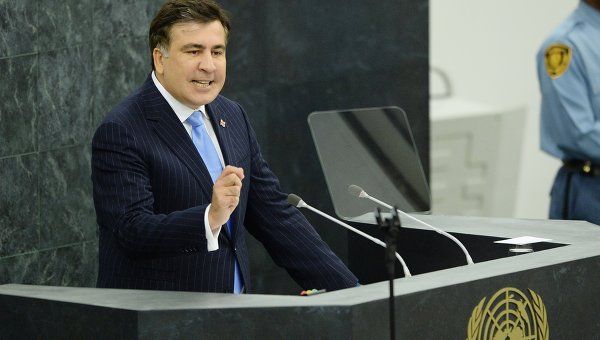 The Russian delegation walked out Wednesday during outgoing Georgian President Mikheil Saakashvili's speech at the UN General Assembly, a Russian Foreign Ministry spokesman said.

"As a token of disagreement with the assessments voiced by Mr. Saakashvili from the General Assembly rostrum, Russian representatives walked out of the hall," spokesman Alexander Lukashevich said.

The delegation left the hall when the Georgian leader was criticizing the Russian authorities and their policy in former Soviet republics.

Russia's ambassador to the UN, Vitaly Churkin, blasted Saakashvili's speech saying it was "Russophobic."

Russia and Georgia severed diplomatic ties in 2008 after Moscow recognized the de-facto independent Georgian republics of South Ossetia and Abkhazia as independent states following a five-day military conflict over South Ossetia in August that year.

Moscow provides the breakaway republics with economic and military support. Their independence has been recognized by a handful of other countries as well. Most countries do not recognize South Ossetia or Abkhazia as independent states, but view them as part of Georgia.

Georgia's new government, elected in the October 1, 2012 polls, said normalizing ties with Russia was among its top priorities. However, Georgian Prime Minister Bidzina Ivanishvili said in July Moscow and Tbilisi are unlikely to restore their ties by the time Russia holds the 2014 Winter Olympics in the Black Sea resort of Sochi.
September 26 2013, 11:58