By Laura Suleimenova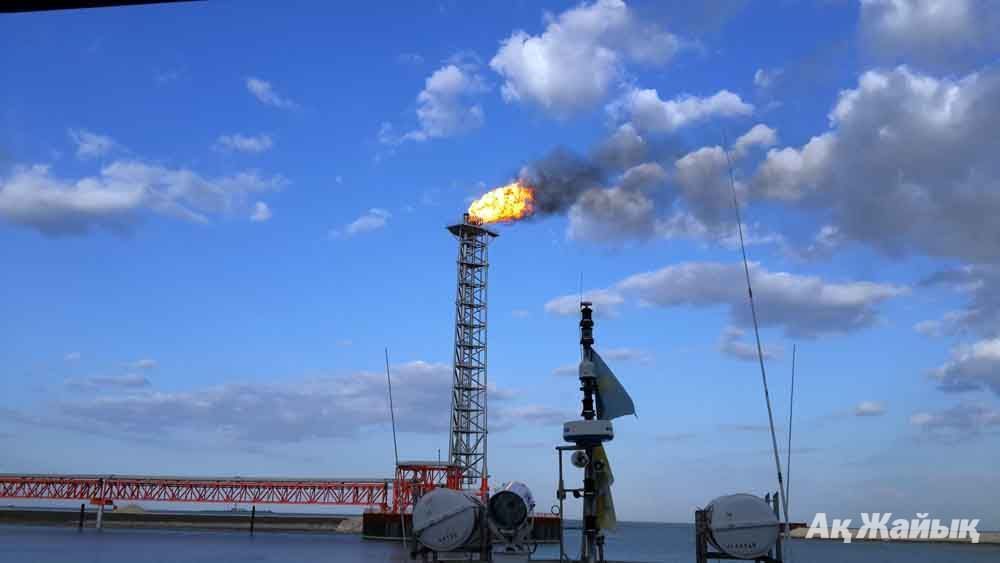 Emergency fuel gas flaring at Kashagan. August 26, 2013
Credible sources told Ak Zhaik about another incident at Bolashak plant on September 24.

Provincial emergency department confirmed the information and public environmentalists have launched an unscheduled audit.
According to Agip's report to the emergency agency sent on September 24, at 08.35 local time, during a regular walkabout at the onshore pipeline was discovered some gas in the air at a distance of 2 kilometers from the Bolashak plant. Gas alarms were not activated at the facility and there has been no threat to lives, it writes.
"Accident source is being investigated by an expert group. Pressure was repeatedly dropped down in gas lines over the day to detect leak causes. Pressure tests are over now", the letter says.
Given this sources insisted that the case is more serious than reported - they said it was a fracture in the gas line and a sour gas leak followed by a hydrogen sulfide discharge, which left no other way than to stop the entire plant and to burn all the gas present in pipelines at the moment.
Three pipelines connect the onshore complex to the man-made islands at Kashagan: one for unprocessed fluid (oil and water), the second for raw gas, where the incident happened and the third a return pipe for fuel gas used for generating power for onshore and offshore facilities.

Employees at contracting firms involved in the plant's commissioning say they have been prevented from entering the refinery's territory since September 11, apparently due to security reasons.

To recall, less than a month ago this same plant saw a gas leak with full evacuation of personnel.

An official comment from NCOC's external communications manager Hans Wenk reads:
"An insignificant gas leak was found during a scheduled checking of a gas pipeline that connects D Island and Bolashak in the morning of September 24. The leak was detected 2.5 kilometers from the plant within a sanitary protection zone. In accordance with normal procedures works to isolate given section of the pipeline were carried on and pressure was dropped. Emergency department of Atyrau Oblast was immediately notified of the case. In line with safety procedures an investigation is under way now. No discharge of toxic hydrogen sulfide was detected and no human victims were reported. Currently, all operational facilities are on standby and the wells have been shut down."




September 25 2013, 17:43