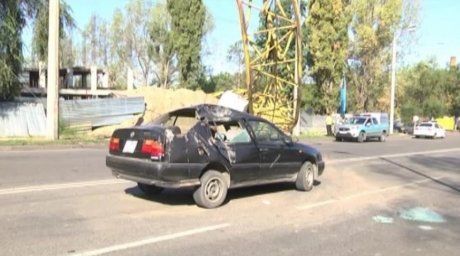 A column crane crashed on a traffic lane at the crossing of streets in Almaty, Lenta.kz reports.

A large tonnage horizontal jib crane tore off power lines and crushed onto a Volkswagen car driving on the lane at the moment. A passenger in the light car got heavy injuries and was hospitalized in a critical condition.

According to Almaty Emergency Department, Dalabayev, 51, the craneman, was also severely injured in the fall and died in hospital shortly after.

Witnesses say the accident happened during construction. The crane was moving things at the site when suddenly tilted to side and fell down.
Watch dashboard video here
September 18 2013, 14:07