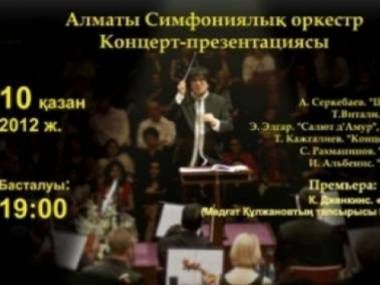 Photo resource - jam.kzOn October 10, Almaty will host a premiere of the symphony "Shakarim" by British composer Karl Jenkins, BNews.kz correspondent reports citing Almaty Department of Culture.
The premiere will take place in the concert presentation of the new symphony orchestra, headed by Marat Bisengaliyev.
"The Symphony is dedicated to Kazakh poet; Jenkins recorded it at the famous Abbey Road. Firstly, it was heard at the premiere of the Royal Festival Hall on October 31, 2010 in the performance of the London Philharmonic Orchestra in London," the Department of Culture reports.
The name of Karl Jenkins entered in the list "Top 10 outstanding living composers". In 2010 he became the Commander of the Supreme Commander of the distinguished Order of the British Empire.
bnews.kz
October 9 2012, 15:22