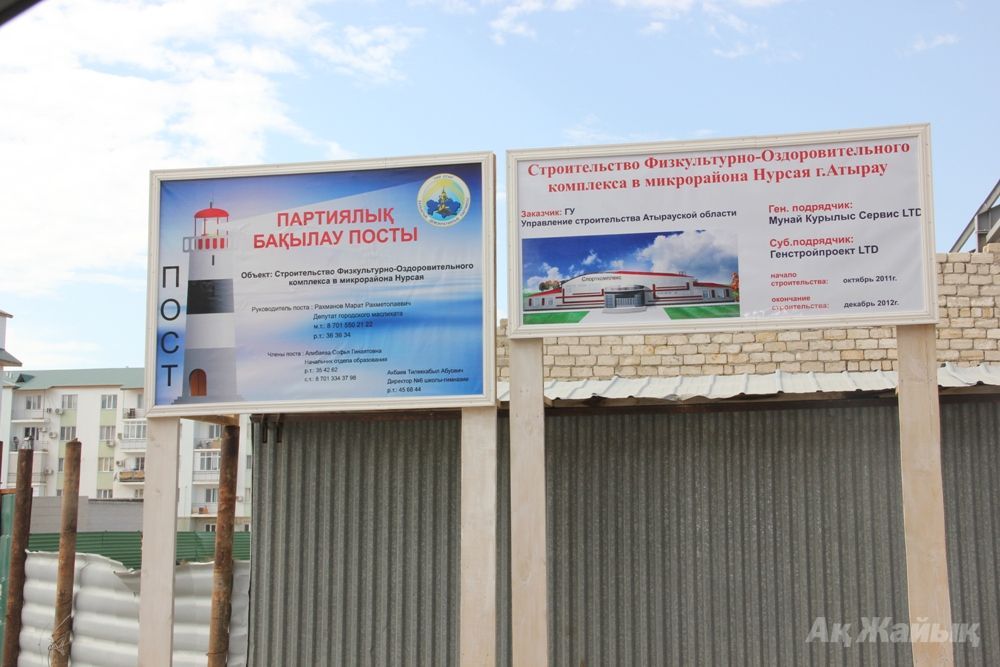 The Nur Otan party specified on the banner as the supervising "eye" of the Sports and Recreation Centre construction site in the Nursaya city district, denies its supervising powers.
"Nur Otan party members specified on the banner, as well as the deputies of the city maslikhat (local delegate body) M. RAKHMANOV and S. ALIBAYEVA were not aware about this construction site because the party control post at this facility was not established by the party city branch," wrote to Ak Zhaik newspaper Serik BAIMUKASHEV, the first deputy chairman of Atyrau branch of Nur Otan party. - "Please be informed that we couldn't identify those who posted the banner."
- "We have nothing to do with that banner, – he said later by phone. – "Probably, some corrupt people, attempting to cover themselves with the name of our party, by doing so tried to avoid inspection checks."
Though, judging by the another banner belonging to the general contractor Munay Kurylys Service LTD posted 2 meters away from this Nur Otan party false banner, it is not so difficult to establish who was working "under the shelter" of the presidential party. It could be the one who until recently had been its member.
Zulfiya BAINEKEYEVA
Photo of the author
October 8 2012, 17:04