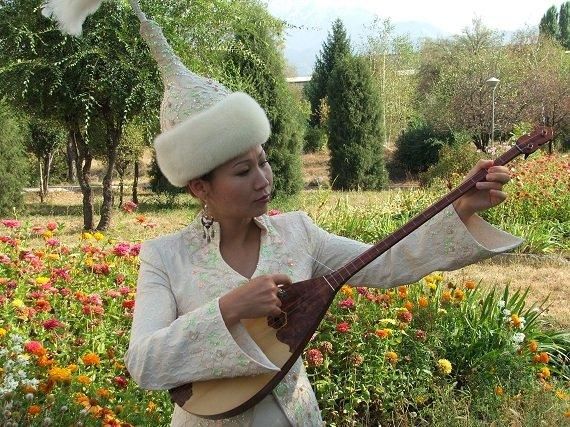 Ulzhan Baibussynova, accompanying herself on the dombraIn conjunction with the highly successful exhibition Nomads and Networks: the Ancient Art and Culture of Kazakhstan, which is currently on display at the Smithsonian's Freer Sackler Gallery until November 11, 2012, this concert by the Bardic Divas was presented on October 5, 6 and 7 in collaboration with the Kazakh Embassy and Aga Khan Music Initiative, a program of the Aga Khan Trust for Culture.
Visitors enjoyed the wonderful experience of the vibrant music of Kazakhstan's nomadic culture and unique melodies from the Eurasian Steppe, performed by women whose songs recall heroic epics, complement shamanic rituals, and preserve lyrical songs of celebration. The presentations featured vocalist Ulzhan Baibussynova, accompanying herself on the dombra (long-necked lute); folksinger Ardak Issataeva; and instrumentalist Raushan Orazbaeva, performing on the Kazakh fiddle.
All events featured commentary by Kazakh music specialist and Fulbright scholar Anna Oldfield. The artists are featured on the Smithsonian Folkways CD/DVD series Music of Central Asia and appeared at the River of Music festival for the London Olympics.
October 8 2012, 16:12