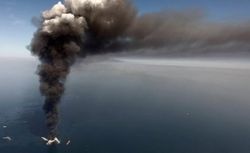 The State Oil Company of Azerbaijan (SOCAR) could not cope with the fire on exploration well #90 at offshore field Bulla-Deniz and draws support from BP.

SOCAR president Rovnag Abdullayev says that BP suggested Azerbaijan assistance with extinguishing the fire on the well.

"We're ready to accept help of BP, which has large experience in these matters," he said.

According to Abdullayev, the program aimed at liquidating the effects of the accident is already under preparation.

"According to initial reports, its cause was abnormally high pressure in the strata," Abdullayev said.

The fire started at 11.30 pm on 17 August and continues so far. Emergency evacuation of workers from platform #29, located in the northwestern part of the field, allowed avoiding casualties.

Well #90, drilling of which began on 6 November 2012 at sea depth of 26.5 m is designed to evaluate the hydrocarbon potential of the field at the VIII productive horizon. No gas manifestations were observed to depth of 5,868 m (the drilling crew reached it at 23 pm on 17 August), which corresponds to about the middle of the VIII horizon. Although measures were taken to prevent the emission of gas, blowout of gas from the well began at 23.30 pm and a fire outbreak occurred.

Located 80 km south of Baku, Bulla Deniz field was discovered in 1975. Its reserves are estimated in 17 bn cu m. The sea depth ranges from 5 to 30 m. Today its daily production is about 1 million cu m.
August 20 2013, 12:18