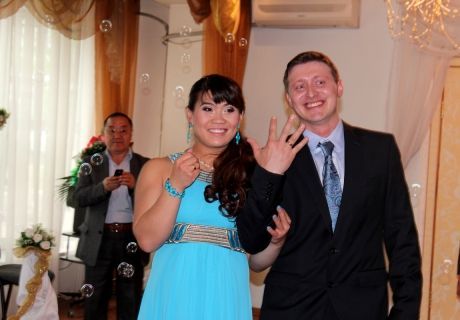 Maya Maneza and Vyacheslav Yershov at their wedding, April 2013
Two-time world champion, winner of gold at the London Olympics, Kazakh weightlifter Maya Maneza has successfully laboured a baby in one of Almaty's hospitals, her husband Vyacheslav Yershov said to a Vesti.kz reporter.

Maneza was safely delivered of a son on August 20. The boy weighs 3 kilograms. The happy parents named the kid Arseniy.

"The birth was successful, both Maya and the kid feel ok, we are happy!," Yershov said.

Maya Maneza has a cap of Kazakhstan since 2007. In 2009 and 2010 she won world weightlifting championships in the under 53 kilo category. In 2010, she won the championship of Asia. She took silver at the world tournament in Paris in 2010 and the gold medal at the 2012 Olympic Games in London.
Last April she married Vyacheslav Yershov, also a weightlifter and the Asian Games 2006 gold medalist. Soon after the marriage the couple announced to have been expecting a baby.





August 20 2013, 11:51