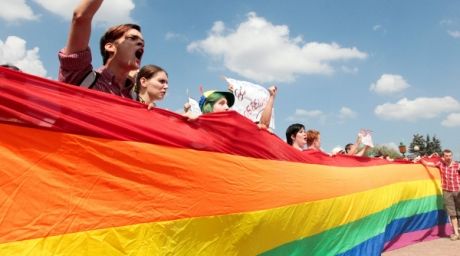 Majilis deputies believe the country needs laws that will allow closing gay-clubs and ban parades of gay activists.
Deputy Aldan Smayyil told he had raised the issue in spring of 2013 after he heard of the first ever lesbian wedding in Karaganda.
Then Mr Smayyil sent an inquiry to the prime minister explaining the need to forbid homosexuality propaganda.
"I requested him to close gay clubs, ban their rallies and all sorts of disgusting relations. The answer was we indeed had no specific law that would enable us to close gay clubs," the MP said.
Mr Smayyil is determined to seek adoption of an anti-gay act in September after the parliament convenes.
He says during his work trips voters asked him to do so.
His colleague Murat Akhmadiyev reckons that the decision on gay propaganda in Kazakhstan needs no discussion.
"Ideally, no talks should be run on the matter, as it is definitely unacceptable behavior. We have always been saying our country is different [than Europe - author]," Mr Akhmadiyev stated.

He added that if it happens that other countries criticise Kazakhstan for its intolerance towards LGBT communities, the country should demonstrate firmness and defend its principles and laws.

At the same time, the Majilis member emphasized that gay rights should not be breached. He said there is a number of sexual minorities living in Kazakhstan and a red-light on gay relations is unacceptable, it is just gay propaganda that should be restrained.
August 16 2013, 17:05