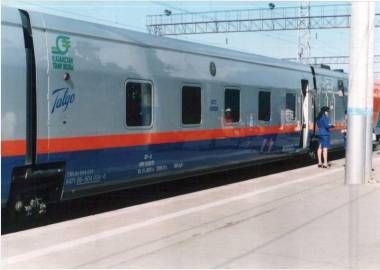 On August 22, the new high-speed train "Atyrau" №19/20 with a route "Astana-Atyrau" consisting of "Tulpar Talgo" carriages will depart from the railway station of Astana, reports the press service of JSC "Passenger transportation".

Frequency of the new train's operation - once in four days. The total time in the way - 22 hours 57 minutes from Astana to Atyrau, and 22 hour 15 minutes back.

"The train consists of 27 carriages, 22 - for passenger transportation, including 2 carriages of "Grand" class (two-passenger, luxe), 2 carriages of "Business" class (two-passenger) and 18 carriages of "Tourist" class (four-passenger, economy class), as well as 3 technical ones, 1 dining car and 1 bar car. One of the "Grand" class carriages provides for a compartment for passengers with disabilities", - it is reported in the message.

They specified in the agency that it's planned to construct 420 more passenger carriages by 2014.
August 16 2013, 10:26