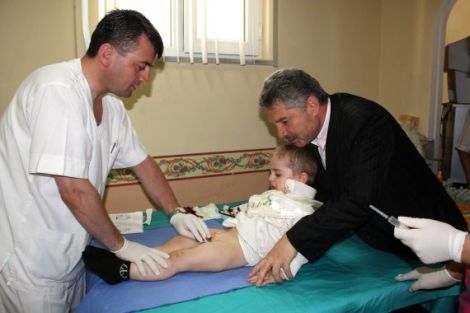 Kyzylorda branch of Nur Otan political party organized a campaign called Alpamys Goes to School that involved provision of free circumcision services to 200 children in local hospitals, Tengrinews.kz reports.

"We decided the campaign into two stages. At the first stage hospital surgeons will provide the service to children from low-income families and orphans. These are the families where parents or foster parents cannot afford to circumcise their sons and arrange the subsequent celebration. As you know, the circumcision is made at the odd age: three, five or seven years," deputy chairman of Kyzylorda branch of Nur Otan party Abzal Mukhimov said.

5 surgeons are now performing the surgeries in the oblast medical center. Bicycles have been prepared as gifts for children. According to Mukhimov, these gifts were bought by the party's members individually.

"We called to the party members with the request to buy gifts for the children. And now each of them can choose a bicycle. The second stage of the campaign will involve sponsors and the party buying school bags and stationery for children from low-income families," he added.
August 15 2013, 16:58