By Tamara Sukhomlinova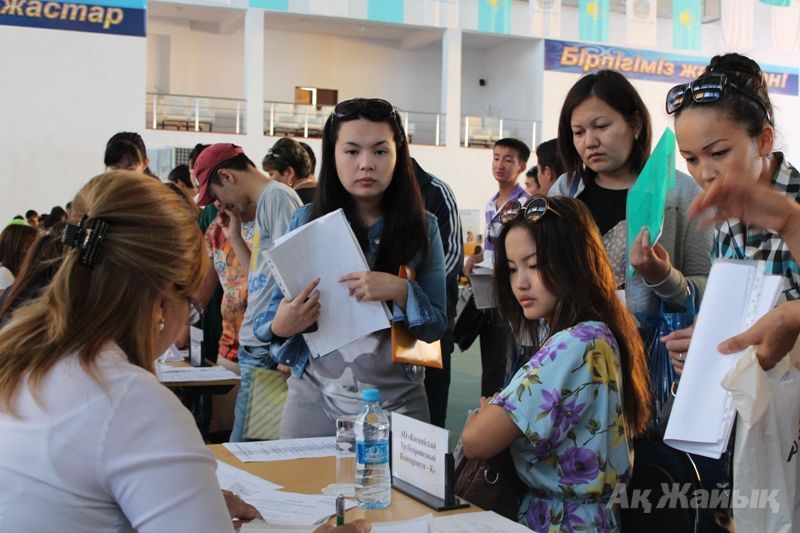 On August 12, the International Day of Youth, Atyrau State University hosted a fair of vacancies for young people.
Normally graduate specialists face great difficulties finding a job for a simple reason - employers prefer experienced workers.
Graduates have almost no onjob experience, so a closed loop emerges.
Rafkhat Bozbaliyev, chief specialist with the provincial youth affairs department, says his agency raised the issue on a youth forum in Astana lately and proposed there to count internship as a work experience.

26 companies attended the fair of vacancies arranged by youth department backed by Tarlan Atyrau public foundation and the local employment agency.
These included Isker KazStroyService, Bolashak Atyrau, Kazakh Branch Sinopec Engineering Group, CPC, Worley Parsons, Ataba Supermarkets, second-tier banks, military department and others.
Nearly 1,500 jobs were presented of which over a half included crafts - pipe fitters, electric and gas welders, electricians, fire safety supervisors, scaffolders, drivers, masons, carpenters and plumbers.
Around 200 engineers were sought. Hotel and commerce specialists were in demand too.

From the opening, more and more young people gathered around reps of foreign companies.
"We are ready to hire young specialists without work experience if they demonstrate good knowledge of their profession at interviews. On top of that is our another requirement - besides a diploma a candidate should have a certificate or any other document that certifies he or she has basic skills of the specialty," a Sinopec recruiter said.

In other words, they recommend students to pass additional short course training after graduation, which is absolutely free of charge under a government's employment program.
Recruiting specialists from hotels virtually wasted the day. The Renaissance Hotel offers included waiters and room maids, but girls and boys avoided the desk.
"Surely, the jobs we offer might seem unattractive to young people, however one can start his career from the very bottom. Employers always spot talented, responsible and diligent employees, and doubtless such employees may count on promotion to a more decent position," the hotel's agent said.

So was the day of Zhassyl El circle, a public semi-volunteer greenery organization.
"We offer a seasonal job, at least we do. Hundreds come to work with us in summers and earn money. We are looking for young men and women aged 16-29. Five seven-hour working days with a salary of 35,000 tenge a month. Perhaps, that is what repels job seekers. Alas, everyone seeks a well-paid job," says Rinat Gilazhev, the head of regional Zhassyl El.

At large, after sincere talking to employers I concluded that none of them avoids fresh graduates with no experience.
The most important thing is the knowledge of a specialty's fundametals and the wish to learn and work.



August 15 2013, 15:20