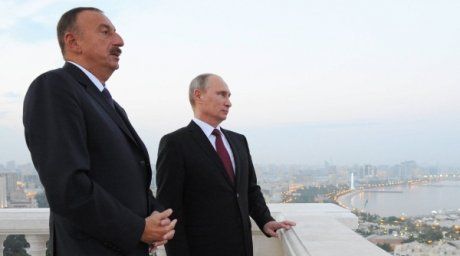 Azerbaijan has undertaken the obligations to Russian President Vladimir Putin with some assistance of Nursultan Nazarbayev, Aysor writes citing Azadlyg.

"It is known that Kazakhstan President Nursultan Nazarbayev served as a middleman in restoration of the relations between Vladimir Putin and Ilkham Aliyev. With some assistance from Nazarbayev, Baku has undertaken obligations to the Kremlin, making Putin's visit to Baku possible," the newspaper writes.

According to experts, Azerbaijan's joining the Customs and Eurasian Unions is extremely important for Russia.

According to the newspaper, Putin is very straight in this issue: either Azerbaijan joins these structures or the Kremlin reconsiders the relations with Baku.

Meanwhile, during the visit to Baku Vladimir Putin will try to resolve this issue, the newspaper writes. As for Baku's position, the maneuvers of Azerbaijan authorities are limited. The relations of the authorities with the West are not that optimistic, while deterioration of the relations with Russia may create serious problems for Baku.

"Failure to perform Russia's terms will undoubtedly put Baku and Kremlin face to face. Azerbaijan authorities are currently at a dead end," the experts note.
August 15 2013, 11:50