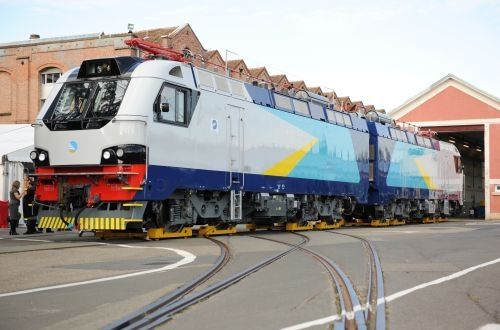 The first of 10 pre-series KZ8A 25kV ac freight locomotives was unveiled today in Belfort, France, by the president of Alstom Transport, Mr Henri Poupart-Lafarge, who was accompanied by the president of Kazakhstan Railways (KTZ), Mr Askar Mamin.
The locomotive is the first of 200 freight and 95 passenger locomotives ordered by KTZ in 2010 from Alstom and its Russian partner Transmashholding.
The pre-series locomotives are being built in France before manufacture of the bulk of the order switches to Alstom's new plant in the Kazakh capital Astana, which is due to open on December 12. The Astana factory will be able to manufacture 80 locomotives a year.
With an output of 8.8MW, Alstom claims the KZ8A is the world's most powerful electric freight locomotive as it is designed to haul trains of up to 9000 tonnes at a maximum speed of 120km/h and in temperatures ranging from -50oC to +50oC. The locomotive has IGBT asynchronous traction drive, a starting tractive effort of 833kN, and is equipped with regenerative braking.
The KZ9A is a double-unit 1520mm-gauge locomotive with a double Bo-Bo wheel arrangement and provision to adopt a triple Bo-Bo arrangement. A socket is fitted to allow auxiliaries to be tested and for moving the locomotive inside workshops. The socket can also be used to pre-heat the locomotive without using the overhead power supply. Each unit is 17.5m long and has one cab equipped with a microwave oven, fridge, underfloor heating, heated seats with footrests and a toilet.
The KZ8A is being certified in Russia and is due to start dynamic testing in Kazakhstan in January 2013.
Alstom and AO Locomotive, a subsidiary of KTZ, have signed a 25-year contract worth €100m for the full maintenance, major overhaul and modernization of 27 KZ4AC passenger locomotives.
The KZ4AC units run predominately between Astana and Almaty and have been in operation for three years. Alstom will provide maintenance services at a depot in Astana, with a satellite depot due to be built in southern Kazakhstan.
October 8 2012, 11:50