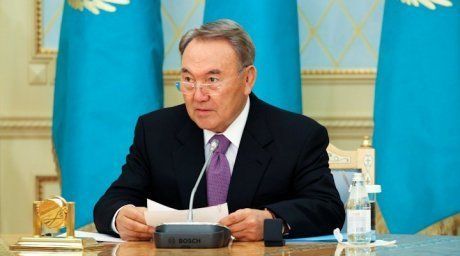 Kazakhstan's President Nursultan Nazarbayev has met Gregory Marchenko, the country's Central Bank Governor. Central Bank Governor briefed Head of State that the financial market has seen stable growth, with the inflation rate standing at 5.9%, below the forecasted range of 6-8%. Following the meeting, Head of State made a statement that there are no grounds for the Tenge [Kazakh national currency] devaluation, tengrinews.kz reports, citing the President's website.

Briefed by Mr. Marchenko on the major macroeconomic indicators, Head of State believes that given the country's current gold and FX reserves, as well as the economy growth rates, there are no reasons for the Tenge to devalue; the President added that the National Bank should work in the current mode.

Following the talks, President gave a number of instructions on maintaining further stability of the financial sector and retaining the economy growth rate.

When speaking at the government sitting July 23, Erbolat Dossayev, Minister of Economic Affairs, had said that the country's international reserves grew 4.1% in the H1 2013, reaching $89.6 billion.

He elaborated that the assets of the National Oil Fund made up $63.5 billion, 9.8% up against the start of the year.

The National Fund of Kazakhstan was created in 2000 as a stabilization fund that accumulates windfall revenues from oil sales and ensures the economy of Kazakhstan will be stable against the price swings of oil. The assets of the National Fund assets are monitored by the National Bank of the Republic of Kazakhstan.

"Despite the lingering uncertainty of the global economy, Kazakhstan's economy has been stable, with the GDP growing 5.1% in the H1 2013", Economic Affairs Minister Erbolat Dossayev said at the same sitting July 23.


July 27 2013, 14:37