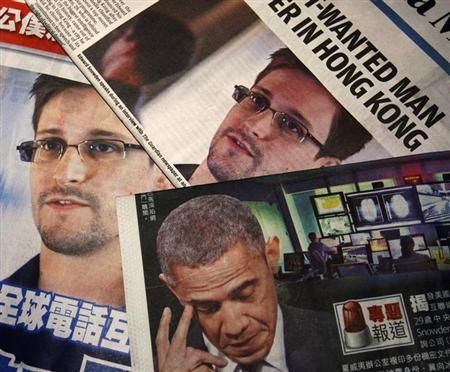 Credit:ReutersThe White House is deliberately leaving it vague as to whether President Barack Obama will attend talks in Moscow with Russian President Vladimir Putin if the saga involving former U.S. spy agency contractor Edward Snowden is unresolved.
Putin has invited Obama for face-to-face talks in Moscow ahead of a St. Petersburg summit in September with leaders of the G20 nations, and the White House announced on June 17 that Obama would both attend the summit and go to the Russian capital.
But that announcement was before Snowden fled to Moscow from Hong Kong on June 23 to avoid facing U.S. espionage charges for revealing details about secret U.S. surveillance programs involving phone and Internet data.
Snowden, stuck in the transit area of Moscow's Sheremetyevo airport, has since applied for temporary asylum in Russia, putting Moscow further on the spot. The Kremlin said on Tuesday that Putin would not be the one making the decision.
Pressed on Wednesday on whether Obama will still go on the Moscow part of the trip, White House spokesman Jay Carney was vague.
"I have no further announcements on our travel to Russia. The president intends to go to Russia in September," he said.
An Obama decision not to go to attend talks with Putin would register his displeasure with the Russian leader's refusal thus far to expel Snowden back to the United States.
An administration official said the White House vagueness about the Obama Moscow visit "reinforces without being belligerent that this is an irritant."
Obama and Putin spoke by phone about Snowden last Friday. Administration officials say Obama's message was the same as that communicated by other U.S. officials at various levels to their Russian counterparts - that Russia has the legal basis to expel Snowden and should do so.
The Snowden affair has already prompted a U.S. lawmaker to suggest that Washington should consider boycotting the 2014 Sochi Winter Olympics if Snowden is granted asylum in Russia.
"I love the Olympics, but I hate what the Russian government is doing throughout the world," Republican Senator Lindsey Graham told NBC on Tuesday. "If they give asylum to a person who I believe has committed treason against the United States, that's taking it to a new level."
Putin signalled on Wednesday that he did not want a dispute over Snowden to derail Russian relations with the United States.
The White House agreed.
"We share President Putin's views expressed again, that we don't want this matter to do harm to our bilateral relations," said Carney.
(Additional reporting by Roberta Rampton and Timothy Gardner; Editing by Alistair Bell and Sandra Maler)
July 26 2013, 16:46