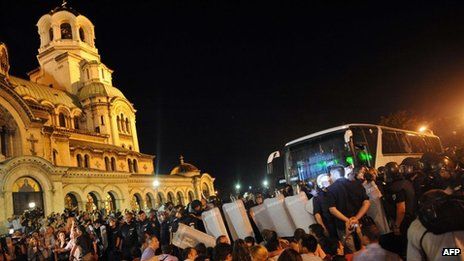 Demonstrators reportedly threw stones at a bus trying to leave the building
Protesters have blocked the doors of Bulgaria's parliament amid mass daily rallies against government corruption.

More than 100 politicians, journalists and staff have been trapped inside the building, local media said. One report said they had been there for five hours.

Demonstrators clashed with riot police in Sofia, the capital, on the 40th day of anti-government rallies.

Earlier the EU's Justice Commissioner said she backed the protesters.

Viviane Reding, who was in the country for a live question and answer session, said on Twitter: "Here in Sofia today, my sympathy is with the Bulgarian citizens who are protesting against corruption."
Turmoil

Tensions rose outside the parliament on Tuesday after ministers discussed budgetary changes.

Crowds surrounded the building shouting "Mafia!" and "Resign!" and prevented a heavily guarded bus from leaving with MPs on board, local media said.

Several protesters and at least one police officer have reportedly been injured.
Bulgaria - the poorest EU member state - has been in political turmoil for months. The current government took office after a snap election in May.

For five weeks it has seen big protests against the coalition government, with thousands of people taking to the streets in Sofia and other cities.

The demonstrations erupted over the controversial appointment of a media mogul, Delyan Peevski, as head of the national security agency.

Prime Minister Plamen Oresharski, who heads a Socialist-led coalition, later revoked the appointment and apologised, but the protests continued.
July 24 2013, 17:51