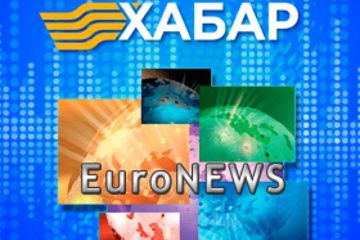 July 23 in Paris between the day-and-night news channel Euronews in the name of the chairman of the executive board of Michael Peters and "Khabar" Agency JSC on behalf of the Chairman of the Board Aidos Ukibaev, and director of the Kazakh TV channel Anisa Burdina was signed an agreement on Khabar Agency's joining Euronews Network Association.

In order to expand activities in the international global information space Khabar made a proposal on cooperation with the television holding Euronews. In turn, Euronews is interested in quality TV content from Kazakhstan and Central Asia, so it supported the initiative for mutual activity. On the part of the European partner the Agency was invited to enter the largest association of Euronews Network with extended services it provides.

The joining allows media agencies to use Kazakh news content on Euronews channels and websites of the agency's TV channels to receive high-quality materials (news stories, video blogs) on socio-political, economic, scientific, cultural and sports themes, prepared by Euronews professional team of employees around the world.

Also, in order to improve the professional level the employees of Khabar will get training with leading journalists in the world. Euronews' first training seminar will be held in October this year in Astana. In 2014, holding such workshops is planned not only in Kazakhstan, but also in the office of Euronews in Lyon, France.

"This international agreement is very important for us, we have made a long way to achieve this", emphasizes the Chairman of the Board of Khabar Aidos Ukibaev. "In fact, it is the introduction of new information technologies in Kazakhstan and in our agency. According to the contract, we can use the high-quality content in order to prepare materials with Euronews bureaus around the world and improve the skills of employees. "

"We are very pleased that this agreement has been endorsed, and Khabar becomes one of the first members of the network Euronews Network", said the head of Euronews Michael Peters. "We are now discussing ways to strengthen our relationship, as well as the further steps of collaboration. These relationships are important for us. We, Europeans, believe in the future of your region. We also believe that Kazakhstan will play a key role in shaping the future of Central Asia and the Caucasus. "

Note: Late May, Euronews and "Khabar" Agency inked a bilateral protocol on cooperation. And in June, Euronews story came out about the opening of the State Theatre of Opera and Ballet called "Astana-Opera" as evidence of established connections and start of concrete cooperation in the exchange of information and content.

It is known that Euronews is one of the largest and leading European full-time news channel, combining video footage of world events, and audio commentary in 13 languages. Cable, satellite and broadcasting of Euronews covers more than 350 million homes in more than 150 countries worldwide.
July 24 2013, 10:47